James Veitch, Balfour Beatty's Director of Data and Digital Technology, has featured in Construction News, discussing how the company has effectively invested in digital technologies to deliver efficiency and productivity benefits.
In the article, James details the company's strategy towards digital adoption and the considerations needed to realise the full benefits of integrating these solutions into day-to-day workflows.
James highlights Balfour Beatty's focus on project-management tools, specifically targeting the technologies that fill crucial gaps in areas including telematics, supply chain integration, digital permitting, and task management as well as short-term planning.
Commenting on the company's focus in integrating and even building proprietary back-end solutions, James explains: "This was a strategic choice to address gaps in the digital ecosystem and ensure we had end-to-end visibility of our processes. The digitisation of frontline operations is a prerequisite for other initiatives such as generative AI, so the focus has been on ensuring it has solid foundations to build upon".
To read the article in full, please click here.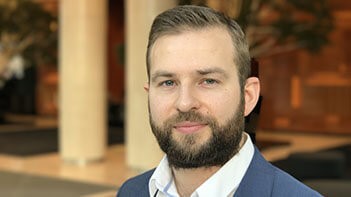 James Veitch, Balfour Beatty's Director of Data and Digital Technology