Balfour Beatty Examining Engineer Richard Storey recently spoke to both Rail Engineer and New Civil Engineer magazines about Balfour Beatty's expertise in examining redundant rail structures.
The first interview for Rail Engineer explored the work Balfour Beatty carries out for Highways England across the whole of its redundant rail structure estate and how Balfour Beatty is developing and rolling out the use innovative and digitised tools for its examinations. These include the use of drones to fly alongside large structures and take photographs at defined 3D coordinates that can be exactly replicated on subsequent inspections, making it feasible to track changes in the structure's condition.
The interview with New Civil Engineer, looks at Balfour Beatty's work on the 128-year-old abandoned Rhondda Tunnel in Wales for the Rhondda Tunnel Society, which has been sealed shut since 1980. The piece highlights that initial examination carried by Balfour Beatty's expert engineers has played a pivotal role in setting in motion the transformation of the tunnel into Europe's longest cycleway at 3.1km long.
The full interviews can be read here; and here.
ENDS
Media enquiries to:
Will Swan
Balfour Beatty
+44 (0)207 963 2150
will.swan@balfourbeatty.com
www.balfourbeatty.com | follow us @balfourbeatty 
All non-media related enquiries should be directed to +44 (0)20 7216 6800 or info@balfourbeatty.com
Notes to editors:
Balfour Beatty (balfourbeatty.com) is a leading international infrastructure group. With 28,000 employees, we provide innovative and efficient infrastructure that underpins our daily lives, supports communities and enables economic growth. We finance, develop, build and maintain complex infrastructure such as transportation, power and utility systems, social and commercial buildings.
Our main geographies are the UK & Ireland, US and Far East. Over the last 100 years we have created iconic buildings and infrastructure all over the world including the London Olympics' Aquatic Centre, Hong Kong's first Zero Carbon building, the world's biggest shopping mall in Dubai, the National Museum of the Marine Corps in the US and the Channel Tunnel Rail Link.
Balfour Beatty is one of the UK's leading rail infrastructure suppliers. From feasibility studies, planning and design through to implementation and asset management, we provide multi-disciplinary rail infrastructure services across the lifecycle of rail assets. Our expertise covers electrification, track, power, civils, specialist rail plant, railway systems and technologies.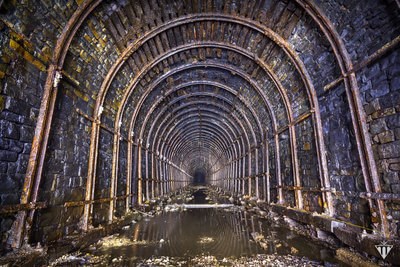 Image: 128 Year Old Rhondda Tunnel