Project to transform iconic building's street-level plaza, interior lobby into dynamic, urban marketplace
AUSTIN, Texas – December 17, 2015 – The transformation of downtown Austin continues with the reinvention of public space at One Eleven Congress – an integral part of the Capitol City skyline since 1987. Balfour Beatty Construction was chosen by owner Parkway Properties, Inc., to deliver the project alongside landscape architecture firm dwg. and Michael Hsu Office of Architecture. 
Fareground at One Eleven Congress is the reimagination of the plaza and lobby space at One Congress Plaza, the iconic blue-lighted stair-step building at the corner of 2nd Street and Congress Avenue. Part park and part marketplace, Fareground will transform the street-level sunken plaza and interior lobby of One Congress Plaza into a modern, inviting and active downtown hub for professionals, residents and visitors. The lively inside-outside, eat-drink, work-play, early-to-rise, late-to-close hub, is within walking distance from the heart of downtown.
Laser scanning technology incorporates heritage oak trees into redesign
Following extensive preconstruction planning by Balfour Beatty, the Fareground at One Eleven Congress project is underway with completion expected in spring 2017. During the pre-planning efforts, Balfour Beatty used laser scanning, part of a suite of advanced reality capture technology, to scan the plaza and its five existing heritage oak trees being incorporated into the redesign. Laser scanning the entire plaza allowed the construction team to identify the precise location of the tree canopies to avoid clashing with the new shade structures being installed at the plaza level.
"Our extensive portfolio of interior construction in Austin's central business district, especially our experience with complicated, commercial lobby renovations, made this project a great fit for our team's expertise," said Kirk D. Benken, vice president of operations for Balfour Beatty Construction in Austin. "We are thrilled to be a part of another one-of-a-kind project in Austin." 
Balfour Beatty previously served as general contractor for the 56-story Austonian condominiums and has been selected as the general contractor for the The Independent, which will be the tallest residential building west of the Mississippi River.
About Balfour Beatty Construction US
An industry leader for more than 80 years, Balfour Beatty Construction US provides general contracting, at-risk construction management, and design-build services for a wide variety of markets, serving clients in both the public and private sectors. The company is the U.S. subsidiary of London-based Balfour Beatty plc (LSE: BBY), a leading international infrastructure group that finances, develops, builds and maintains complex building programs focused on social and commercial buildings, power and utility systems, and transportation. Consistently ranked among the nation's largest building contractors, Balfour Beatty Construction Services US has been cited as a Top 10 Domestic Building Contractor and Top 10 Green Builder by Engineering News-Record. To learn more, visit www.balfourbeattyus.com or look for BalfourBeattyUS on Facebook, Twitter, and LinkedIn.   
Media enquiries:
Matt Averitt
Balfour Beatty Construction
(214) 451-1030
maveritt@balfourbeattyus.com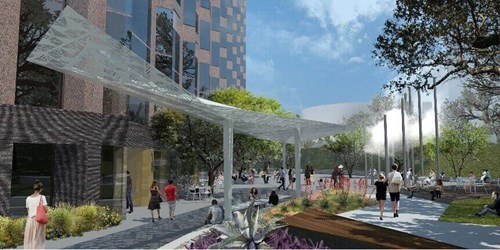 Photographs: Balfour Beatty used laser scanning, part of a suite of advanced reality capture technology, to scan the plaza and the five existing heritage trees being incorporated into the redesign.