Balfour Beatty, the international infrastructure group, has completed the transformative engineering works to the iconic former London Olympic stadium.
The works, which began in January 2014 on behalf of the London Legacy Development Corporation (LLDC), have contributed significantly to the regeneration of the Olympic stadium, allowing West Ham United FC to start using the multi-purpose venue in August.
Sustainable measures included the reuse of over 6,000m of cable, 3,800 lights and 1,000 mechanical and electrical components as well as the use of 19,000 tonnes of recycled demolition material.
Works included the installation of the world's heaviest anti-gravity roof which is twice the size of the original and the iconic lighting towers which have been reintegrated within the stadium.
At its peak, the project employed over 1700 people on site, culminating in 3.4 million man hours worked.
Boosting the local economy through the use of local businesses in the local supply chain and local employment was a priority for Balfour Beatty. In line with the company's commitment to The 5% Club, Balfour Beatty has also created 50 local apprenticeships in a range of trades as well as 10 work placements and over 300 training opportunities.
Stephen Tarr, Managing Director of Balfour Beatty's Major Projects business said, "From the very beginning we were focused on continuing the legacy of this historic venue, transforming it from its original use of a single-purpose venue to a multi-functional world class venue providing numerous opportunities and uses for generations to come.
"We have utilised some of the most complex engineering techniques on this project, capitalising on our in-house capabilities and expertise to ensure the project was delivered safely to a high specification whilst boosting the local economy through employment opportunities; it's a project we are all immensely proud of".
ENDS
Media enquiries to:
Rebecca Jones
Balfour Beatty
t:   +44 (0) 207 963 2150
e:  rebecca.jones2@balfourbeatty.com
For all non-media related enquiries please contact +44 (0)20 7216 6800 or info@balfourbeatty.com
 Notes to editors:
Balfour Beatty (www.balfourbeatty.com) is a leading international infrastructure group. With 34,000 employees, we provide innovative and efficient infrastructure that underpins our daily lives, supports communities and enables economic growth. We finance, develop, build and maintain complex infrastructure such as transportation, power and utility systems, social and commercial buildings.

Our main geographies are the UK, US, Middle East and South East Asia. Over the last 100 years we have created iconic buildings and infrastructure all over the world including the London Olympics' Aquatic Centre, Hong Kong's first Zero Carbon building, the world's biggest shopping mall in Dubai, the National Museum of the Marine Corps in the US and the Channel Tunnel Rail Link.

Balfour Beatty is a member of 'The 5% Club', a UK industry-led initiative focused on creating momentum behind the recruitment of apprentices and graduates into the workforce.

Chief Executive Leo Quinn was the founding member of the 5% Club. Balfour Beatty joined in December 2013, the first company in the infrastructure industry to join. The Company is committed to ensuring that, within five years of joining, at least 5% of its workforce consists of Apprentices, Graduates and Sponsored Students.

Currently, 4.6% of Balfour Beatty's population is made up Apprentices, Graduates and Sponsored Students. This equates to 270 Apprentices and 180 Graduates working and training at Balfour Beatty. Each year around 150 additional Apprentices and 120 additional Graduates are recruited across the UK.

Balfour Beatty offers Graduates the opportunity to be part of either a technical or business graduate scheme. The two structured schemes focus on a variety of topics such as building and construction management, engineering, quantity surveying and commercial management, health and safety, transport planning and the environment, HR, IT, Marketing, general management and finance.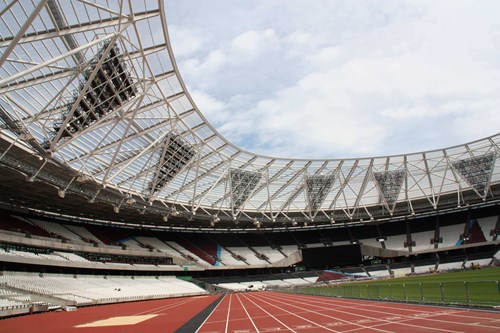 Photo: Completed former Olympic Stadium