Balfour Beatty Group Chief Executive Leo Quinn has been appointed to the Construction Leadership Council (CLC), where he will lead its Skills workstream.
The Construction Leadership Council, created in 2013, consists of a number of business leaders from across the industry. The Council works closely with government to identify and deliver actions supporting UK construction in building greater efficiency, skills and growth.
The number of major infrastructure projects in the pipeline demands a highly skilled workforce. The Skills workstream is key to driving the changes necessary to ensure the construction industry is appropriately skilled to meet current and future demand. Working closely with Government, the Skills workstream will support the Government's aim of creating three million apprenticeships by 2020, by reforming apprenticeship training from recruitment through to retention.
Leo Quinn has supported the development of opportunities for young adults for many years, believing that supporting young people is the most significant investment to be made for the future of the UK's society and economic stability. His passion for improving skills and expertise in the industry is well-known, having founded The 5% Club back in 2013. This cross-industry, UK-wide initiative looks to its members to commit 5% of their workforce being apprentices, graduates or sponsored students on structured programmes within five years of joining the club.
With nearly half of all construction apprentices failing to remain in the industry long term, and youth unemployment in the UK at 14%, Leo Quinn will look to use his role within the CLC to tackle the leak of talent from the growing construction industry. 
Commenting on his appointment, Leo said "I look forward to working closely with my colleagues on the Council and with Government to drive the changes required to protect the future of our industry. I am passionate about the provision of high quality apprenticeships that provide the skills to our young people that industry demands. It is imperative that young adults are aware of the vast opportunities available to them in our industry and that, most importantly, these opportunities are accessible and provide a solid foundation for a long, successful career in the industry".
Nick Boles, MP, Minister of State for Skills and co-chair of the Construction Leadership Council, said, "We are getting Britain building. Leo will bring great expertise to the Construction Leadership Council as it continues to promote innovation, training and business improvement in this vital sector."
ENDS
Media enquiries to:
Antonia Walton
Balfour Beatty
t:   +44 (0)207 963 2267
m: +44 (0)7966 929 633        
e:  Antonia.walton@balfourbeatty.com
www.balfourbeatty.com | follow us @balfourbeatty
Notes to editors:
Balfour Beatty (www.balfourbeatty.com) is a leading international infrastructure group. With 36,000 employees, we provide innovative and efficient infrastructure that underpins our daily lives, supports communities and enables economic growth. We finance, develop, build and maintain complex infrastructure such as transportation, power and utility systems, social and commercial buildings.
Our main geographies are the UK, US, Middle East and South East Asia. Over the last 100 years we have created iconic buildings and infrastructure all over the world including the London Olympics' Aquatic Centre, Hong Kong's first Zero Carbon building, the world's biggest shopping mall in Dubai, the National Museum of the Marine Corps in the US and the Channel Tunnel Rail Link.
Balfour Beatty is a member of 'The 5% Club', a UK industry-led initiative focused on creating momentum behind the recruitment of apprentices and graduates into the workforce.
Chief Executive Leo Quinn was the founding member of the 5% Club. Balfour Beatty joined in December 2013, the first company in the infrastructure industry to join. Balfour Beatty is committed to ensuring that, within five years of joining, at least 5% of its workforce consists of Apprentices, Graduates and Sponsored Students.
Currently, 4.6% of Balfour Beatty's population is made up Apprentices, Graduates and Sponsored Students. This equates to 270 Apprentices and 180 Graduates working and training at Balfour Beatty. Each year around 150 additional Apprentices and 120 additional Graduates are recruited across the UK.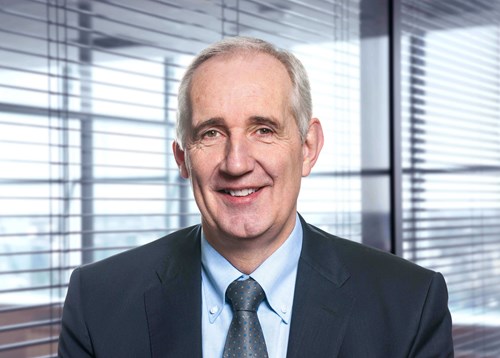 Photograph: Balfour Beatty Chief Executive, Leo Quinn