Balfour Beatty Campus Solutions, a leading developer and operator of infrastructure projects for the college and university market, and Texas Woman's University (TWU), America's largest University primarily for women, have announced that they have reached financial close on a mixed-use student housing project on TWU's main campus in Denton.
The Public-Private Partnership project, valued at $75.5 million (c.£53 million), will deliver additional student housing and amenities targeted at the University's sophomore class.
The Residential Village development will be comprised of three lots of four and five storey Georgian-style buildings that will include 872 student beds configured in pod-style living quarters with spa-like communal baths offering private bathroom and shower stalls.  In addition, three separate apartment units will be available on-site for resident directors. The community will also feature a fitness centre, lounge and study areas, multipurpose space, offices for the University's Housing & Residence Life department and a variety of community gathering spaces to enhance the on-campus living experience for TWU sophomores.
Josh Smith, Senior Vice President, Balfour Beatty Campus Solutions, said, "Texas Woman's University has set forth an exciting vision to develop a community that will deliver a transformative on-campus living-learning experience for students.
"We are thrilled to work with TWU and our partners to leverage the Public-Private Partnership model and bring this important new infrastructure to their Denton campus."
Monica Mendez-Grant, Ed.D. Vice President of student life for TWU, said "We are delighted to work with Balfour Beatty Campus Solutions to reinforce TWU's strategic plan to accommodate more students on our campus and to provide high quality residences with more social space and amenities.
"This project will allow TWU to increase opportunities for students to live in a residential setting and enable the University to increase access to the student experience while maintaining the high standards for institutional quality."
Construction of the project will be led by Texas-based Hill & Wilkinson with Architecture led by Stantec. Collegiate Housing Foundation, a national non-profit entity, is the project's residential facility owner through an issuance of project-based, tax-exempt debt financing. 
The community is scheduled to be delivered in time to accommodate student occupancy for the start of the 2019/20 academic year in August 2019.
ENDS
Media enquiries to:
Maureen Omrod
Balfour Beatty
610.355.8136
www.balfourbeatty.com | follow us @balfourbeatty
All non-media related enquiries should be directed to +44 (0)20 7216 6800 or info@balfourbeatty.com
Notes to editors:
Balfour Beatty (balfourbeatty.com) is a leading international infrastructure group. With 28,000 employees, we provide innovative and efficient infrastructure that underpins our daily lives, supports communities and enables economic growth. We finance, develop, build and maintain complex infrastructure such as transportation, power and utility systems, social and commercial buildings.
Our main geographies are the UK & Ireland, US and Far East. Over the last 100 years we have created iconic buildings and infrastructure all over the world including the London Olympics' Aquatic Centre, Hong Kong's first Zero Carbon building, the National Museum of the Marine Corps in the US and the Channel Tunnel Rail Link.
Balfour Beatty Campus Solutions LLC provides development, asset/property management, and other real estate services to higher education with a focus on public-private partnerships that underpin the strategic vision of an institution. The company offers public-private partnership (P3) solutions for funding and delivery of capital plans, including residential, academic, administrative and faculty offices, research, athletic/recreation, student centers, dining, parking and infrastructure.
Balfour Beatty Campus Solutions is part of Balfour Beatty Investments, Inc. a global company focused on financing and operating the vital assets that enable societies and economies to grow: roads and railways, health and education facilities, power and water systems, places to live and places to work—the infrastructure that underpins progress. Balfour Beatty Investments is a division of Balfour Beatty plc, a UK-based international infrastructure group operating in construction services, support services and infrastructure investments.
Texas Woman's University is the nation's largest public university primarily for women with almost 15,500 students at its three locations in Denton, Dallas and Houston. Texas Woman's is known for its contributions and leadership in the fields of education, nutrition, business, the arts and sciences, and especially in the nursing and health care professions. The university offers the student support, class sizes and campus aesthetics more typically found at a private university. Male students have been admitted to the university's graduate programs since 1972 and undergraduate programs since 1994. TWU prides itself on providing students with a well-rounded educational experience focused on service, health and well-being and integrity. Respect for diversity in all dimensions (U.S. News & World Report ranks the university tied for 5th among US universities for diversity) and a safe campus environment (Texas Woman's is among the safest campuses in the nation) are among the hallmarks of a TWU education.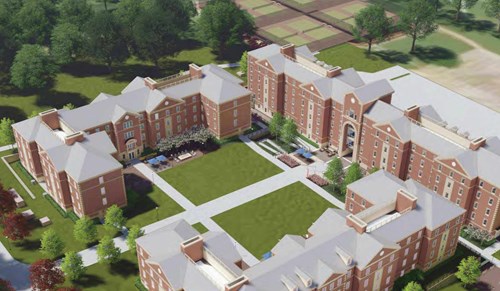 Image: Project rendering of Texas Woman's University student village project