Last week, Balfour Beatty and Perth and Kinross Council, led students at local schools in Perth in a three day practical exercise to build and test scale models of a 15 metre cable-stayed bridge, provided by the Institution of Civil Engineers (ICE) regional education team.
The popular year-round event, 'Bridges to Schools', aims to promote the benefits of careers in civil engineering and the positive impact the profession has on society.
Over 189 pupils across three local schools, Perth Grammar, St John's RC Academy and Ruthvenfield Primary School, participated in the event, learning about the importance of safe working practices and collaboration as well as the engineering properties involved in building a bridge including; counter weights, towers in compression and cables in tension.
Ken Brown, Deputy Project Manager for Balfour Beatty's Perth Transport Futures project, said: "We are dedicated to engaging with the local community and our future workforce. 'Bridges to Schools' is yet another excellent example of the positive activity that we can undertake to inspire and educate the next generation. I would like to thank the dedicated teams from both Balfour Beatty and Perth and Kinross Council for facilitating this important event and would like to congratulate all students who rose to the challenge."
Jillian Ferguson, Project Manager, Perth and Kinross Council, said: "It was great to see pupils of various ages engaging with the project team and gaining an informative insight into Civil Engineering."
Balfour Beatty is currently undertaking works to the Perth Transport Futures project on behalf of Perth and Kinross Council. Through the Scape Procure framework, Balfour Beatty continues to drive further community and economic benefit through initiatives such as 'Bridges to Schools'.
ENDS
Media enquiries to:
Vivienne Dunn
Balfour Beatty
+44 (0)207 963 2150
vivienne.dunn@balfourbeatty.com
www.balfourbeatty.com | follow us @balfourbeatty
All non-media related enquiries should be directed to +44 (0)20 7216 6800 or info@balfourbeatty.com
Notes to editors:
Balfour Beatty (www.balfourbeatty.com) is a leading international infrastructure group. With 30,000 employees, we provide innovative and efficient infrastructure that underpins our daily lives, supports communities and enables economic growth. We finance, develop, build and maintain complex infrastructure such as transportation, power and utility systems, social and commercial buildings.

Our main geographies are the UK, US and the Far East. Over the last 100 years we have created iconic buildings and infrastructure all over the world including the London Olympics' Aquatic Centre, Hong Kong's first Zero Carbon building, the National Museum of the Marine Corps in the US and the Channel Tunnel Rail Link.

Balfour Beatty, the international infrastructure group, has been operating in Scotland for over a century. Today, the company employs 2,000 people across Scotland and works with a supply chain that includes a substantial proportion of local businesses.

The company's construction business recently completed the award winning Holyrood Student Accommodation development, providing 1,180 student beds within the World Heritage Site of Holyrood in the City of Edinburgh and  the construction of a Typhoon Propulsion Service Facility to support the rebuild and supply of the EJ200 engines used by 3 Typhoon Squadron.

Significant projects in the Company's current portfolio include the Aberdeen Western Peripheral Route which will improve the transport network in Aberdeen and across the north east of Scotland, the £14m Almondbank Flood Defence Scheme to deliver a series of flood defences along the River Almond and construct a temporary flood storage unit and the Perth Transport Futures project which will see the creation of a new junction on the A9 dual carriageway to support growth in Scotland's third busiest region.

Iconic projects of the past include the refurbishment of Forth Bridge which was nominated for UNESCO World Heritage Status and carries the East Coast Mainline over the Firth of Forth, the Fife General Hospital and Maternity Services provision which centralises specialist in-patient, acute and emergency services on one site and the restoration and extension of Lewis Castle and Museum Nan Eilean to provide a new museum, archive and hospitality facility on the Isle of Lewis.

Balfour Beatty is one of the UK's leading infrastructure providers, with a portfolio which includes a sole contractor position on the £1.5 billion, four year Scape National Civil Engineering and Infrastructure framework. The framework allows Public Sector clients to commission works through a procurement process that provides the fastest route to market and utilises early contractor engagement to deliver the best value engineering solutions.

Significant projects in the company's current Scape portfolio include the £73 million Rossall and Anchorsholme Scheme for Blackpool Council which combined will create the largest costal protection scheme in the UK, helping to protect 12,500 residents from the risk of flooding; the £35 million A9/A85 Crieff Road junction improvements for Perth and Kinross Council which will alleviate congestion, enhance accessibility to the city and unlock £500 million of economic growth for the local economy and the£11 million Carnival Pool Multi Storey Car Park for Wokingham Borough Council.

With the Civil Engineering and Infrastructure Framework available to any public sector body and with over 350 organisations in its portfolio, Balfour Beatty works with a variety of clients to deliver successful schemes to enhance communities and deliver social and economic benefits through the use of a local supply chain.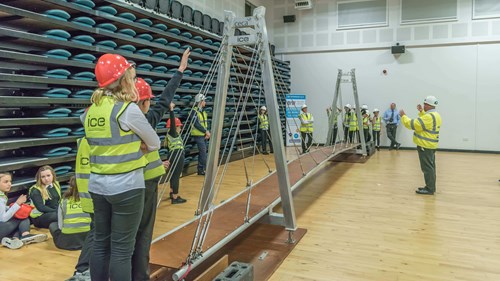 Image: Pupils inspecting the test scale model cable-stayed bridge