Balfour Beatty, the international infrastructure group, has been selected by Palace Revive Development Ltd to deliver the pre-construction services contract for a £130 million renovation and new-build scheme on No. 1 Palace Street, in St James' Park, London.
Balfour Beatty will collaborate with the London-based development company Northacre and Palace Revive Development Ltd to deliver pre-construction services including programming and procurement, in the lead up to the full construction contract award which is expected in early 2016.
The full scheme will involve refurbishment of the existing six-storey listed building, construction behind retained facades and a complex four-storey basement build.
Once complete, the development will house 72 apartments, many of which offer unique views over the gardens of Buckingham Palace. Residents will also enjoy more than 10,000 sq. ft. of leisure facilities, including a state-of-the-art gym, swimming pool and a wellness centre. The site will encompass five architectural styles, ranging from French Renaissance to Contemporary, with a Grade II listed retained façade.
Construction is due to start in early 2016 following full contract award and is scheduled for completion by the end of 2017.
Dean Banks, Balfour Beatty Managing Director of the UK Construction business, said: "I am very pleased that our technical solution to the construction of this complex build has been embraced by Palace Revive Development Ltd and Northacre. Our proven ability to succeed in constrained construction environments in busy city centres means we are well suited to this prestigious project and we look forward to securing the full contract award early next year.
"Balfour Beatty is committed to delivering first-class projects with selected partners that utilise our industry leading expertise and our work on this luxury residential build is a prime example of this."


ENDS
Media enquiries to:
Antonia Edwards
Balfour Beatty
T: +44(0)191 228 2715
M: +44 (0) 7813363166
E: Antonia.edwards@balfourbeatty.com
NOTES TO EDITORS:
Balfour Beatty (www.balfourbeatty.com) is a leading international infrastructure group. With 36,000 employees, we provide innovative and efficient infrastructure that underpins our daily lives, supports communities and enables economic growth. We finance, develop, build and maintain complex infrastructure such as transportation, power and utility systems, social and commercial buildings.
Our main geographies are the UK, US, Middle East and South East Asia. Over the last 100 years we have created iconic buildings and infrastructure all over the world including the London Olympics' Aquatic Centre, Hong Kong's first Zero Carbon building, the world's biggest shopping mall in Dubai, the National Museum of the Marine Corps in the US and the Channel Tunnel Rail Link.
With 25 years of experience, Northacre is London's leading developer of luxury residences in the most sought-after locations. Northacre distinguishes itself through an intrinsic understanding of luxury, where passionate attention to detail is combined with an appreciation for craftsmanship, heritage and innovation. Each Northacre residence is created as a legacy project, to form something beautiful for generations to come.
Northacre has been responsible for the notable developments of The Lancasters, The Phillimores, Kings Chelsea, and The Bromptons, to name but a few. 
Northacre is currently developing No.1 Palace Street, a magnificent scheme of 72 luxury apartments overlooking Buckingham Palace, set for completion in early 2018. www.northacre.com
www.numberonepalacestreet.com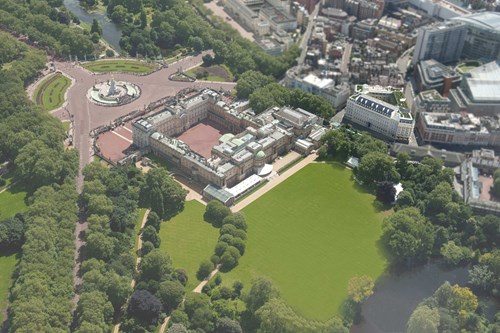 Photograph: Aerial view of No.1 Palace Street