North Carolina Department of Transportation (NCDOT) has awarded Balfour Beatty a c.$242 million (c.£196 million) design-build contract to deliver improvements to Interstate U.S. 70 between the Havelock Bypass and east of Thurman Road in Craven County, North Carolina.
The project will upgrade the 6.4-mile section of Interstate U.S. 70 to improve mobility and military interconnectivity, support economic development and increase safety along the corridor.

Balfour Beatty will lead the design and construction of the project's structures and roadways, an expertise of the company's Southeast team who have been working along the interstate to deliver the U.S. 70 Havelock Bypass and U.S. 70 James City projects. According to NCDOT, the newly awarded project is intended to improve the U.S. 70 corridor, the future Interstate 42, between Raleigh and the Port of Morehead City to interstate standards. 
Mark Johnnie, Balfour Beatty senior vice president of Southeast Civils operations, said: "Our Southeast region team is honoured to leverage our design-build expertise and unique abilities in self-performing structures and roadway scope on another improvement project along Interstate U.S. 70.  
"We look forward to building on our more than 20-year relationship with NCDOT and the opportunity to help the state achieve its long-term transportation needs in its growing communities." 

NCDOT Division 2 Construction Engineer Cadmus Capehart, PE, said: "The Division looks forward to working with Balfour Beatty on another U.S. 70/Future I-42 project. They are currently upgrading U.S. 70 to interstate standards in James City and on the Havelock Bypass project. We are excited about getting underway on the section that will connect the two."
Construction is expected to commence in late 2023 with an expected completion in Summer 2028. For more information on the U.S. 70 improvement project between Havelock Bypass and Thurman Road please visit ncdot.gov.
ENDS
Media enquiries:                 
Ashley Melesse
+1 (214) 451-1706
amelesse@balfourbeattyus.com
www.balfourbeatty.com | follow us @balfourbeatty
All non-media related enquiries should be directed to +44 (0)20 7216 6800 or info@balfourbeatty.com
Notes to editors:
Balfour Beatty is a leading international infrastructure group with over 24,500 employees driving the delivery of powerful new solutions, shaping thinking, creating skylines and inspiring a new generation of talent to be the change-makers of tomorrow.
We finance, develop, build, maintain and operate the increasingly complex and critical infrastructure that supports national economies and deliver projects at the heart of local communities.
Over the last 114 years we have created iconic buildings and infrastructure all over the world. Currently, we are working to deliver Hinkley Point C, the first UK nuclear power station in a generation; constructing the world-class arts and cultural facility, the Lyric Theatre, in Hong Kong; and designing, building, financing, operating and maintaining the Automated People Mover superstructure at the fifth busiest airport in the world, Los Angeles International Airport.
Balfour Beatty is an industry-leading provider of general contracting, at-risk construction management and design-build services for public and private sector clients across the United States. Performing heavy civil and vertical construction, the company is part of Balfour Beatty plc (LSE: BBY), a leading international infrastructure group that provides innovative and efficient infrastructure that underpins our daily lives, supports communities and enables economic growth.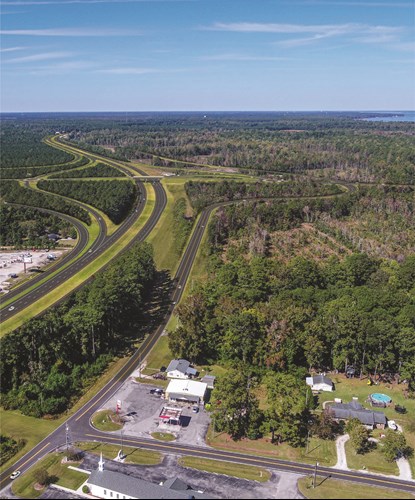 Image: Interstate U.S. 70, North Carolina