Balfour Beatty, the international infrastructure group, has been selected by BAE Systems, a leading global defence company, to deliver an £82.5m contract to build engineering and training facilities at RAF Marham in Norfolk, in readiness for the arrival of the UK's first F-35 Lightning II aircraft in 2018.
In March 2013, the Secretary of State for Defence confirmed that RAF Marham would become the main operating station for the UK's fleet of F-35 Lightning II jets.
Balfour Beatty will construct three new facilities on behalf of BAE Systems to support the arrival of the F-35 Lightning II aircraft in 2018, these are:
an Integrated Training Centre;
a Logistics Operations Centre;
Maintenance and Finishing Facility.
Balfour Beatty will utilise digital tools including 4D modelling and BIM throughout construction of the 25,000m2 of technical accommodation across three individual sites on the base.
Dean Banks, Balfour Beatty Managing Director UK Construction Services, said: "We are committed to making this exciting development a success and extending the excellent track record BAE Systems and Balfour Beatty have for delivering defence projects in the UK.
"Our proven expertise in defence and aviation means that we have developed technically advanced delivery solutions that will help to ensure that RAF Marham's operational capability is maintained throughout our construction activities on base."
Balfour Beatty has worked closely with BAE Systems, its customer Lockheed Martin, the UK Ministry of Defence's Lightning Project Team and RAF Marham over the past six months as a Preferred Supplier to prepare for the construction project.
This project builds on the existing experience that Balfour Beatty has of delivering highly complex and technically challenging projects for the UK MoD on live operational bases.
Balfour Beatty is dedicated to providing sustainable benefits to the local communities in which it operates and has planned to channel a minimum of £25m of project spend via SMEs. As members of The 5% Club, Balfour Beatty will ensure that the project generates opportunities for 15 apprentices, three graduate trainees and a further three work placements for students. The project will see 300 construction workers employed at peak.
Works are scheduled to commence on the project in April 2016 with completion scheduled for summer 2018, ready for the arrival of the F-35 Lightning II fleet in 2018.
ENDS
MEDIA ENQUIRIES TO:
Antonia Edwards
Balfour Beatty
t: +44(0)191 228 2715
m: +44 (0) 7813363166
e: Antonia.edwards@balfourbeatty.com
NOTES TO EDITORS:

Balfour Beatty (www.balfourbeatty.com) is a leading international infrastructure group. With 34,000 employees, we provide innovative and efficient infrastructure that underpins our daily lives, supports communities and enables economic growth. We finance, develop, build and maintain complex infrastructure such as transportation, power and utility systems, social and commercial buildings.
Our main geographies are the UK, US, Middle East and South East Asia. Over the last 100 years we have created iconic buildings and infrastructure all over the world including the London Olympics' Aquatic Centre, Hong Kong's first Zero Carbon building, the world's biggest shopping mall in Dubai, the National Museum of the Marine Corps in the US and the Channel Tunnel Rail Link.
Balfour Beatty is an expert in delivering defence schemes having successfully delivered the Defence Infrastructure Organisation's £121m, 1,200 acre Ministry of Defence Lyneham training facility through a 50:50 joint venture with Kier Construction. Balfour Beatty is currently on site at RAF Brize Norton constructing the new A400M Hangar for UK MoD and has recently completed a series of Typhoon relocation projects at RAF Lossiemouth in Scotland.
Balfour Beatty Engineering and Construction is currently engaged by the Aircraft Carrier Alliance (BAE Systems, Thales, Babcock, DE&S) in the delivery of heavy engineering and cabling works to the new Queen Elizabeth Class Aircraft Carriers which are also part of the wider F35 programme
Balfour Beatty is a member of 'The 5% Club', an industry-led initiative focused on creating momentum behind the recruitment of apprentices and graduates into the workforce. Balfour Beatty joined in December 2013, the first company in the infrastructure industry to do so. The Company is committed to ensuring that, within five years of joining, at least 5% of its workforce consists of Apprentices, Graduates and Sponsored Students. Currently, 4.6% of Balfour Beatty's population is made up Apprentices, Graduates and Sponsored Students. This equates to 270 Apprentices and 180 Graduates working and training at Balfour Beatty. Each year around 150 additional Apprentices and 120 additional Graduates are recruited across the UK.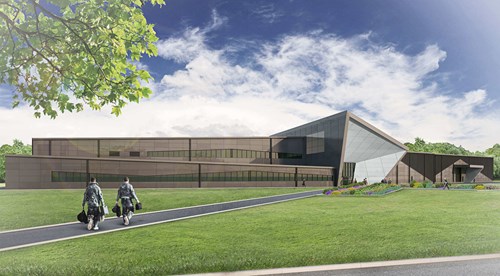 The new Integrated Training Facility at RAF Marham