Balfour Beatty, the international infrastructure group, has been awarded a $697 million contract to undertake electrification of the 52-mile Caltrain rail corridor between San Francisco and San Jose, laying the foundations for the future operation of high speed trains. This is the largest contract secured by Balfour Beatty in the US.
The Peninsula Corridor Joint Powers Board awarded the contract to Balfour Beatty as part of the Caltrain Peninsula Corridor Electrification Project. The electrification of the line will bring cleaner, high performance electric vehicles to Caltrain's fleet allowing for a more frequent service.  Reliability and capacity of the rail service, which operates through 17 US cities across San Francisco, San Mateo and Santa Clara counties, will also be enhanced.
Leo Quinn, Balfour Beatty Group Chief Executive, said:  "Our extensive experience in managing complex rail projects leaves us well qualified to deliver this significant scheme.  Caltrain builds on the back of the recent successful delivery of our part in the multi-billion dollar Eagle P3 Commuter Rail network in Denver, Colorado.
"We are pleased our unique capability has been recognised with this award which contributes to our strategy to increase our design-build rail market share across the US."
Balfour Beatty Infrastructure Inc. will design and build a 25kv AC overhead catenary system to serve as the power source for the new high speed trains and construct two traction power substations, one switching substation and seven paralleling substations. With minimal disruption to the 92 daily Caltrain trains serving over 65,000 commuters daily, the company will also replace signal systems and earth existing facilities as part of the process to electrify the 52 miles of existing corridor.
The project is due to start this autumn with completion expected in spring 2020. A workforce of over 300 will be employed at project peak which will include 50 apprentice opportunities.

ENDS

Analyst/investor enquiries:
Peter Young
Tel. +44 (0)20 7216 6824
peter.h.young@balfourbeatty.com
Media enquiries: 
Gill Stephens
Tel. +44 (0)20 7121 3873
gill.stephens@balfourbeatty.com
Notes to editors:

• Balfour Beatty plc (www.balfourbeatty.com) is a leading international infrastructure group. With 34,000 employees, we provide innovative and efficient infrastructure that underpins our daily lives, supports communities and enables economic growth. We finance, develop, build and maintain complex infrastructure such as transportation, power and utility systems, social and commercial buildings.
• Our main geographies are the UK, US, Middle East and South East Asia. Over the last 100 years we have created iconic buildings and infrastructure all over the world including the London Olympics' Aquatic Centre, Hong Kong's first Zero Carbon building, the world's biggest shopping mall in Dubai, the National Museum of the Marine Corps in the US and the Channel Tunnel Rail Link.
• Balfour Beatty Infrastructure Inc., headquartered in Atlanta, GA, designs, constructs and maintains commuter rail, light rail, highways, bridges, tunnels, wastewater and potable water treatment plants. Its services include industry-leading design, engineering, construction and maintenance for state department of transportations, transportation authorities, rail transit authorities, Class 1 and regional/short line freight, industrial railroads and ports.
• Balfour Beatty Infrastructure Inc. has completed three contracts along the active Caltrain corridor – the Signal System Rehabilitation Project in 2013, the Burlingame track reconstruction and grade crossing construction project in 2008 and the North Terminal Operations Improvement Project in 2007. The company also led the joint venture for the design-build electrification contract for the 150-mile Northend Electrification Project on the east coast of America, in addition to the first corridor on the new 36-mile Eagle P3 Commuter Rail network in Denver, CO. To learn more about Balfour Beatty Infrastructure Inc., visit www.bbiius.com.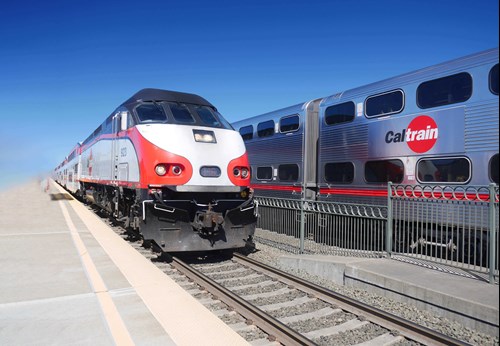 Photograph: A diesel Caltrain locomotive which currently operates on the San Francisco to Santa Clara rail route.