Balfour Beatty today announces that it has been awarded a £67 million contract by the City of Edinburgh Council to deliver a replacement campus at Liberton High School in Edinburgh, Scotland.
Balfour Beatty will be responsible for the design and construction of the new 13,470 square metre campus alongside facilities for the local community including a state-of-the-art synthetic sports pitch, a library and café.
As part of its sustainability strategy, 'Building New Futures' and its ongoing commitment to leaving a lasting, positive legacy in the communities in which it operates, Balfour Beatty will create numerous new areas for biodiversity and will also work closely with ecologists to protect existing habitats in the adjacent conservation area.
Once complete, the campus will become Balfour Beatty's first Passivhaus certified building – a quality assurance process for the design and construction of low energy buildings – and will be one of the first certified schools to be built in Scotland.
To achieve the coveted rating, the building has been designed to be energy efficient and will utilize high-performance windows and doors, and mechanical ventilation with heat recovery to reduce carbon emissions, improve indoor air quality, and reduce energy demand and heating bills.
Hector MacAulay MBE, Managing Director of Balfour Beatty's regional business in Scotland said: "At Balfour Beatty, we have a long and proud history in delivering education facilities in Scotland.
"Throughout construction, we will work hard to give back to the local community, creating and delivering new construction based educational pathways which will equip students with the skills and experience they need for a lasting, fulfilling career in our sector."
Councillor Joan Griffiths, Education, Children and Families Convener at the City of Edinburgh Council, said: "It's great to see work starting on the replacement Liberton High which is the latest school we are building for our young people.
"These new school campuses are innovatively and sustainably designed so they are inspirational places for learning for the next generation of young people creating a vibrant and thriving learning environment."
Works are due to commence later this year with completion expected in 2026. At construction peak, the project will employ 120 people including a number of Apprenticeship, Graduate and Trainee positions.
ENDS
All non-media related enquiries should be directed to +44 (0)20 7216 6800 or info@balfourbeatty.com
Notes to editors:
Balfour Beatty is a leading international infrastructure group with 25,000 employees driving the delivery of powerful new solutions, shaping thinking, creating skylines and inspiring a new generation of talent to be the change-makers of tomorrow.
We finance, develop, build, maintain and operate the increasingly complex and critical infrastructure that supports national economies and deliver projects at the heart of local communities.
Over the last 114 years we have created iconic buildings and infrastructure all over the world. Currently, we are working to deliver Hinkley Point C, the first UK nuclear power station in a generation; constructing the world-class arts and cultural facility, the Lyric Theatre, in Hong Kong; and designing, building, financing, operating and maintaining the Automated People Mover superstructure at the fifth busiest airport in the world, Los Angeles International Airport.
Balfour Beatty has been operating in Scotland for over a century. We are committed to delivering on our principle of added social impact, working closely with our customers to deliver real, tangible benefits for the communities in which we operate.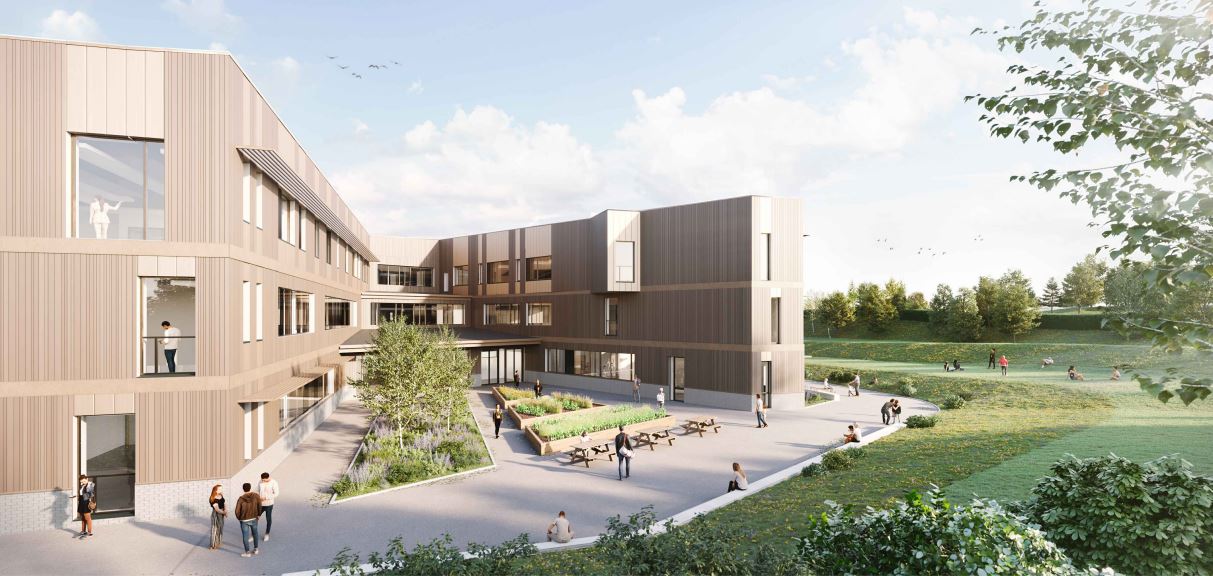 Image: Replacement Liberton High School courtyard view