Balfour Beatty, the international infrastructure group, has been awarded a £35 million contract by Perth and Kinross Council to deliver the first phase of the Perth Transport Futures Project, which will support growth in Scotland's third fastest developing region. The contract has been awarded under the Scape Group's National Civil Engineering and Infrastructure Framework.
Balfour Beatty will create a new grade separated junction on the A9 dual carriageway as well as a new link road enabling access to development land to the west of the city. This is the first of four phases of the Perth Transport Futures project which aims to alleviate congestion, enhance accessibility to the city and unlock £500 million of economic growth for the local economy.
Balfour Beatty have worked in collaboration with Perth and Kinross Council under the Scape National Civil Engineering and Infrastructure Framework since December 2015. Early collaboration, including joint value engineering and risk workshops, has enabled Balfour Beatty to fully participate in the development of the scheme, mitigate risks and ultimately provide the Council with the most cost effective design.
Hector Macaulay, Balfour Beatty Regional Managing Director, Scotland, said: "We are really pleased to have been awarded this key contract and to be a part of the exciting development plans in Perth & Kinross. We have a vast wealth of experience in delivering significant highway infrastructure schemes across Scotland including locally on the A9, A90 and the M90.
"Through the Scape framework we have had the opportunity to collaborate with the Council at an early stage, and ultimately provide Perth and Kinross Council with price certainty and best value. Furthermore, delivery of this project will provide significant opportunities for local sub-contractors and suppliers, ensuring that the Perth and Kinross community not only benefits from greatly improved infrastructure, but also from the added economic benefit delivered through this scheme."
Mark Robinson, Scape Group Chief Executive, said: "Through our National Civil Engineering and Infrastructure framework, Balfour Beatty and Perth and Kinross Councils have already formed a close partnership and this will help to ensure a streamlined and efficient first phase of the Perth Transport Futures Project. "Through the framework, the council is investing in the local economy and delivering added value for local residents as well as new opportunities for local SMEs, further enhancing growth in this rapidly developing region."
The works are due to commence in September 2016, with completion expected in Spring 2019. The scheme will employ around 100 people and will provide a number of apprenticeship opportunities. 
ENDS
Media enquiries to:
Gill Stephens
Balfour Beatty
e: gill.stephens@balfourbeatty.com
www.balfourbeatty.com | follow us @balfourbeatty
Notes to editors:
Balfour Beatty (www.balfourbeatty.com) is a leading international infrastructure group. With 36,000 employees, we provide innovative and efficient infrastructure that underpins our daily lives, supports communities and enables economic growth. We finance, develop, build and maintain complex infrastructure such as transportation, power and utility systems, social and commercial buildings.

Our main geographies are the UK, US, Middle East and South East Asia. Over the last 100 years we have created iconic buildings and infrastructure all over the world including the London Olympics' Aquatic Centre, Hong Kong's first Zero Carbon building, the world's biggest shopping mall in Dubai, the National Museum of the Marine Corps in the US and the Channel Tunnel Rail Link.

Balfour Beatty is one of the UK's leading infrastructure framework providers, with a portfolio which includes a sole contractor position on the £1.5 billion four year Scape national civil engineering and infrastructure framework for public works.

Other national framework positions include the £5 billion Highway's England Collaborative Delivery Framework, the £4 billion Education Funding Agency Framework and the £400 million National Capital Works Framework for the Defence Infrastructure Organisation. In addition Balfour Beatty is on a wide range of regional frameworks including the University of Cambridge's £500 million estate management framework and the North Yorkshire County Council £400 million civil engineering framework.

Scape Group is a public sector owned built environment specialist offering a full suite of national frameworks and innovative design solutions. Scape frameworks are available to any public sector body and currently over 500 organisations have access to these solutions. Bringing together the strongest teams from the public and private sector, Scape's rapidly deployed, highly measurable and collaborative approach delivers value for money and quality buildings whilst stimulating local growth and community benefits.

Scape currently operates a suite of seven national frameworks, including the Civil Engineering and Infrastructure Framework led by Balfour Beatty. To date, the Scape National Frameworks have facilitated £1.62 billion of local spend within 20 miles of project sites and are governed by exacting key performance indicators for levels of SME inclusion and use of local supply chains. Scape has helped deliver over 2,000 public sector projects over the last four years, with another 1,000 currently in progress. For more information visit: www.scapegroup.co.uk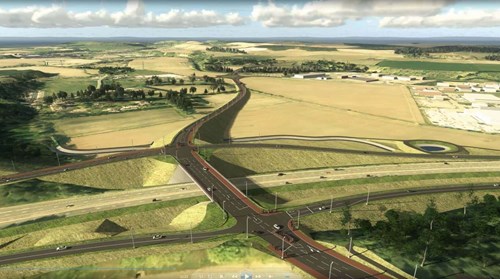 Photo: Computer generated image of the new A9/A85 road junction in Perth & Kinross