Property Group Partners has selected Balfour Beatty to build the North Block phase of its Capitol Crossing development that will span a three-block elevated deck over I-395 in the heart of Washington, D.C. The 2.2 million-square-foot, mixed-use Capitol Crossing development is transforming a seven-acre site into a distinctive cityscape that will reunite the District's East End and Capitol Hill neighbourhoods. 
An internationally recognized firm, Property Group Partners is a premier developer with active projects in Washington, New York and London. With over 12 years of history working together in the District, Property Group Partners and Balfour Beatty previously partnered to build the third building at Station Place, the 1.6-million-square-foot development connected to Union Station, and the 16-story 1101 New York Avenue Class A office building. 
Capitol Crossing's North Block phase includes the construction of two 12-story, mixed-use office buildings that will be connected by a glass connector bridge and total 960,000 square feet. With 70,000 square feet of world class retail space connected by lush garden promenades, Capitol Crossing ultimately will include over 1,100 parking spaces and 440 bicycle parking spaces. 
"Property Group Partners has a strong belief in re-imagining cityscapes and revitalizing neighbourhoods through sustainable building and innovative engineering," said Leon Blondin, president of Balfour Beatty's Mid-Atlantic division. "We're honored to be their construction partner in building this truly historic development in the downtown core that will reconnect long-divided Capitol Hill to the East End. Having already managed the preconstruction, utility relocation and platform construction phases, it's very gratifying to continue our work to take this project vertical and deliver its first two mixed-use buildings." 
Work is scheduled to first begin on the building located at 200 Massachusetts Ave., NW, which will include 25,000 square feet of ground-level retail and 410,000 square feet of mixed-use space. Construction of the second building at 250 Massachusetts Avenue, NW will follow shortly thereafter.   
Capitol Crossing will offer Washington's newest and most energy-efficient office environment with plans to exceed the LEED® Certified Platinum criteria, making it the first Eco-District in the nation's capital. Among its many environmental features will include the innovative use of EcoChimneys made of large plants to filter garage exhaust. The project will also include rooftop green areas and water recapture systems combined with a cogeneration plant to generate electricity and heat at the same time. 
Balfour Beatty will leverage the latest technologies and lean construction methods to achieve Capitol Crossing's progressive environmental design. Technologies will include building information modelling (BIM) software, GPS equipment to locate work elements such as electrical components in pre-cast concrete, and RFID chips in hardhats for workforce tracking and safety. At peak the project will employ a team of 350.   
The Capitol Crossing development adds to Balfour Beatty's U.S. portfolio of innovative, sustainable and modernized commercial office spaces. These marquis office projects include Duke Energy Centre in Charlotte, N.C., which was the first LEED-Platinum core and shell building in the Southeast and the Edith Green-Wendell Wyatt Federal Building in Portland, Ore., which was named the 2014 Sustainable Project of the Year by the Portland Business Journal.
ENDS
Media enquiries to:
Matt Averitt                                             
Balfour Beatty US
t: +1 214-451-1030
e: maveritt@balfourbeattyus.com 
For all non-media related enquiries please contact +44 (0)20 7216 6800 or info@balfourbeatty.com
Property Group Partners, formerly Louis Dreyfus Property Group, has developed, acquired and managed first-class office buildings in North America and Europe for over 40 years. Active in the Washington real estate market since the early1970s, it has developed and manages Station Place, the 1.6-million-square-foot development connected to Union Station that is the headquarters of the SEC, 1101 New York Avenue, and 801 Seventeenth Street. Louis Dreyfus Property Group also developed and owned the Four Seasons Hotel in Georgetown and 2001 K Street. Property Group Partners is currently developing Capitol Crossing that is transforming a seven-acre site surrounding the I-395 Center Leg Freeway into a cityscape that will span three blocks and reunite the East End and Capitol Hill communities. For more information, please visit: www.pgp.us.com.
About Balfour Beatty US
Balfour Beatty US is an industry-leading provider of general contracting, at-risk construction management and design-build services for public and private sector clients across the nation. Performing heavy civil and vertical construction, the company is the US subsidiary of London-based Balfour Beatty plc (LSE: BBY), a leading international infrastructure group that finances, develops, builds and maintains complex building programs focused on social and commercial buildings, power and utility systems, and transportation. Consistently ranked among the nation's largest building contractors, Balfour Beatty US is the No. 3 Domestic Building Contractor as ranked by Engineering News-Record. To learn more, visit www.balfourbeattyus.com and www.bbiius.com.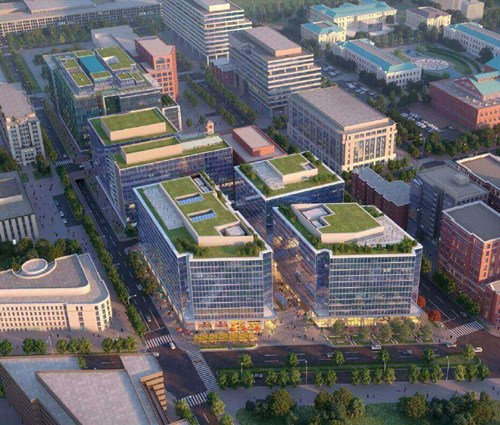 Photo: Artist's impression of the North Block phase of Capitol Crossing