Balfour Beatty has been selected by Highland Park Independent School District (HPISD) to serve as the district's construction partner for a $110 million elementary construction and renovation program. A result of HPISD's 2015 bond election to transform the district's schools over the next five years, the program includes the construction of four new elementary schools and renovation of a fifth elementary school.
With the project's first phase underway, Balfour Beatty is currently managing construction of a new 100,000-square-foot campus, which is the district's first new elementary school since 1948. Situated on 4.6 acres, the new elementary school will provide students and faculty with flexible learning spaces, outdoor classrooms, a learning garden and a one-story underground garage with 90 parking spaces. This facility will serve as the "swing" school to accommodate the faculty and students who are subsequently displaced while their new schools are constructed over the following three years. 
"There is a shift occurring in school design and construction today focused on building future-ready schools, and creating learning environments that maximize engagement and stimulate curiosity," said Charles DeVoe, senior vice president, Balfour Beatty. "This shift is already impacting some of our most progressive K-12 education clients like Highland Park ISD that are thoughtfully designing their new schools with students and teachers in mind. The district has a proud tradition of excellence in its schools and we're honored to be their construction partner in delivering these innovative and sustainable learning spaces that will serve the community for many generations to come."
Upon completion of the first school in the summer of 2017, Balfour Beatty will commence with the demolition and construction of replacement campuses for the three remaining schools. As each new school is completed in 13-month windows, the project team will move to the next campus. Each of the 100,000-square-foot replacement campuses also will include underground parking garages and incorporate flexible, engaging learning spaces throughout to maximize the education experience for students.
In addition to the four new elementary schools included in the program, the district's fifth elementary school is set to undergo renovations, including a 7,900-square-foot addition. Renovations will include right-sizing existing classrooms, replacing interior finishes and other life-cycle replacements while the school remains operational. 
Designed by Stantec, the new HPISD schools will be high-performance buildings that meet the standards established by the Texas Collaborative for High Performing Schools for energy efficiency, water conservation and resource reduction. Balfour Beatty will leverage the latest technologies, including BIM and BIM 360 Field, and lean construction methods such as pull planning and integrated-team alignment to achieve the schools' progressive design.
ENDS
Media Contacts:
Matt Averitt   
Balfour Beatty US   
+1 214-451-1030   
maveritt@balfourbeattyus.com 
About Balfour Beatty US
Balfour Beatty US is an industry-leading provider of general contracting, at-risk construction management and design-build services for public and private sector clients across the nation. Performing heavy civil and vertical construction, the company is the US subsidiary of London-based Balfour Beatty plc (LSE: BBY), a leading international infrastructure group that finances, develops, builds and maintains complex building programs focused on social and commercial buildings, power and utility systems, and transportation. Consistently ranked among the nation's largest building contractors, Balfour Beatty US is the No. 3 Domestic Building Contractor as ranked by Engineering News-Record. To learn more, visit www.balfourbeattyus.com and www.bbiius.com.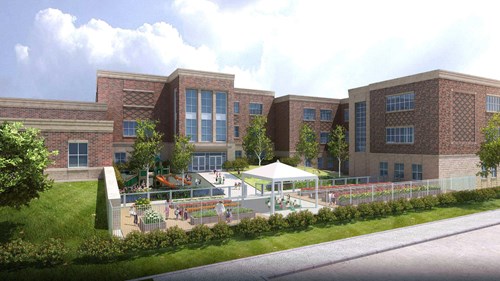 Image: HPISD illustration.