Balfour Beatty Engineering Services apprentice Richard Baron, was last night awarded the prestigious 'Apprentice of the Year' accolade at the H&V News Awards.
The H&V News Awards is an annual celebration of excellence, forward thinking and the highest achievements across the entire HVAC (heating, ventilating, and air conditioning) and building services industry.
To win this award Richard delivered a presentation to a panel of judges to demonstrate academic and practical prowess, indication of initiative and his wider contribution to the success of the projects he has worked on.
Richard said: "I am delighted to receive this award. My apprenticeship with Balfour Beatty has given me the opportunity to work on many challenging and interesting projects on a range of different systems and installation techniques and I look forward to further developing my skills and expertise during the Liverpool John Moore graduate programme."
The judges commented on Richard's application, saying "Our winner represents the ethos of modern apprenticeships: practical-based skills supplemented with further technical education and training".
Another Balfour Beatty Engineering Services apprentice, Thomas Bell, was also shortlisted in the category, the only two apprentices to be shortlisted from the same company in the Awards.
Balfour Beatty offers a wide variety of opportunities within the Apprenticeship Scheme ranging from intermediate, to advanced, to higher level qualifications. As a member of The 5% Club, the Company is dedicated to ensuring that 5% of the workforce is made up of Apprentices, Graduates and Sponsored Students and currently has 4.6% of its employee population on a structured development scheme.
 ENDS
Media enquiries to:
Antonia Walton
Balfour Beatty
t:   +44 (0)207 963 2267
m:+44 (0)7966 929633         
e: Antonia.walton@balfourbeatty.com
www.balfourbeatty.com | follow us @balfourbeatty
For all non-media related enquiries please contact +44 (0)20 7216 6800 or info@balfourbeatty.com
Notes to editors:
Balfour Beatty (www.balfourbeatty.com) is a leading international infrastructure group. With 34,000 employees, we provide innovative and efficient infrastructure that underpins our daily lives, supports communities and enables economic growth. We finance, develop, build and maintain complex infrastructure such as transportation, power and utility systems, social and commercial buildings.
Our main geographies are the UK, US, Middle East and South East Asia. Over the last 100 years we have created iconic buildings and infrastructure all over the world including the London Olympics' Aquatic Centre, Hong Kong's first Zero Carbon building, the world's biggest shopping mall in Dubai, the National Museum of the Marine Corps in the US and the Channel Tunnel Rail Link.
Balfour Beatty is a member of 'The 5% Club', a UK industry-led initiative focused on creating momentum behind the recruitment of apprentices and graduates into the workforce.
Chief Executive Leo Quinn was the founding member of the 5% Club. Balfour Beatty joined in December 2013, the first company in the infrastructure industry to join. The Company is committed to ensuring that, within five years of joining, at least 5% of its workforce consists of Apprentices, Graduates and Sponsored Students.
Currently, 4.6% of Balfour Beatty's population is made up Apprentices, Graduates and Sponsored Students. This equates to 270 Apprentices and 180 Graduates working and training at Balfour Beatty. Each year around 150 additional Apprentices and 120 additional Graduates are recruited across the UK.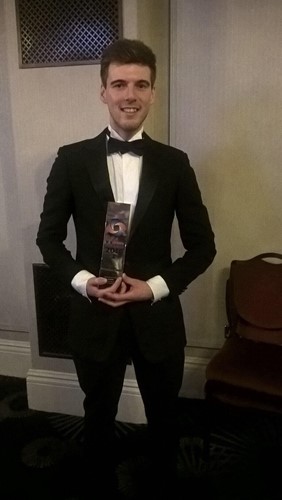 Photograph: Balfour Beatty Apprentice, Richard Baron, with his award "Apprentice of the Year"