Balfour Beatty has been awarded a multi-million pound contract to build the onshore substation for Ørsted's latest offshore wind farm, Hornsea Project Two on the east coast of England.
When operational in 2022, the wind farm will supply clean electricity to over 1.3 million homes, and surpass its sister project Hornsea Project One, as the world's largest offshore wind farm.
The new onshore substation facility will transform the power produced by Hornsea Project Two wind farm before connecting to the National Grid. Balfour Beatty Kilpatrick will deliver the mechanical and electrical services for the new state-of-the-art facility.
Duncan Clark, Programme Director for Hornsea Projects One and Two, said: "We're delighted that Balfour Beatty will continue to work with us on these huge offshore wind farm projects. Having already constructed onshore substations for three of our other projects, this contract continues the long-term partnership between Ørsted and Balfour Beatty.
"Their team is already on site having nearly finished Hornsea Project One's substation, and having this continuity of the team will ensure optimum efficiencies. We're committed to investing in the UK and we're very pleased to be working with a UK firm that we have confidence will deliver a good quality build, on time and most importantly, with a continued high focus on safety."
Thomas Edgcumbe, Managing Director for Balfour Beatty's  North and Midlands regional business, said:  "Having recently completed works to Hornsea Project One, this award is testament to the long-standing relationship we have built with Ørsted over the past few years.
"We're proud to continue this momentum, and look forward to successfully and safely delivering the substation; providing clean power to millions of homes across the UK."
Following successful collaboration during the enabling works phase earlier this year, Balfour Beatty will now commence works on the main build with completion expected in 2020.
Hornsea Project Two won a Contract for Difference in September 2017, and will be built at the lowest ever price for offshore wind seen in the UK. The 1.4 gigawatt (GW) project will be located 89 kilometres off the Yorkshire Coast, and last month Ørsted confirmed it will use 165 Siemens Gamesa turbines for the project. The majority of the blades are expected to be manufactured at the Siemens Gamesa facility in Hull, where pre-assembly work will also be carried out.
ENDS
Media enquiries to:
Vivienne Dunn
Balfour Beatty
+44 (0)207 963 2150
vivienne.dunn@balfourbeatty.com
www.balfourbeatty.com | follow us @balfourbeatty
All non-media related enquiries should be directed to +44 (0)20 7216 6800 or info@balfourbeatty.com
Notes to editors:
Balfour Beatty (balfourbeatty.com) is a leading international infrastructure group. With 28,000 employees, we provide innovative and efficient infrastructure that underpins our daily lives, supports communities and enables economic growth. We finance, develop, build and maintain complex infrastructure such as transportation, power and utility systems, social and commercial buildings.
Our main geographies are the UK & Ireland, US and Far East. Over the last 100 years we have created iconic buildings and infrastructure all over the world including the London Olympics' Aquatic Centre, Hong Kong's first Zero Carbon building, the National Museum of the Marine Corps in the US and the Channel Tunnel Rail Link.
Balfour Beatty has a long and proud history working in the North and Midlands, delivering innovative infrastructure and build projects and supporting growth across the region. The company has proven expertise across multiple sectors including highways, education, flood & coastal defence, and of working with local authorities through the Scape National Civil Engineering and Infrastructure framework along with other regional and national frameworks.
Our portfolio of current projects includes the delivery of two contracts for HS2 worth a combined total of c.£2.5billion, The University of Manchester's £287m Manchester Engineering Campus Development (MECD), representing one of the largest capital developments ever undertaken by a UK higher education institution, and sections of the Manchester Smart Motorways scheme for Highways England. We are also delivering an £85m automotive research facility for the University of Warwick in Coventry, and the New Cross Student Development in Manchester which will feature 274 student apartments.
Completed projects include the £50m 'Diamond' building at the University of Sheffield, the £14m mechanical and electrical services for the new National Graphene Institute at the University of Manchester and a £22.5m new teaching and lecture space at Sheffield Hallam University. Balfour Beatty has also recently completed the £27m Anchorsholme coastal defence scheme on behalf of Blackpool Council, and the Gateshead District Energy Centre, one of the North East region's first energy centres, which will generate and supply heat and power for homes, businesses and public buildings across Gateshead Town Centre.
About Ørsted:
The Ørsted vision is a world that runs entirely on green energy. Ørsted develops, constructs and operates offshore wind farms, bioenergy plants and innovative waste-to-energy solutions and provides smart energy products to its customers. Headquartered in Denmark, Ørsted employs 5,600 people, including over 900 in the UK. Ørsted's shares are listed on Nasdaq Copenhagen (Orsted). In 2017, the group's revenue was DKK 59.5 billion (EUR 8.0 billion). For more information on Ørsted, visit orsted.co.uk or follow us on Facebook, LinkedIn, Instagram and Twitter.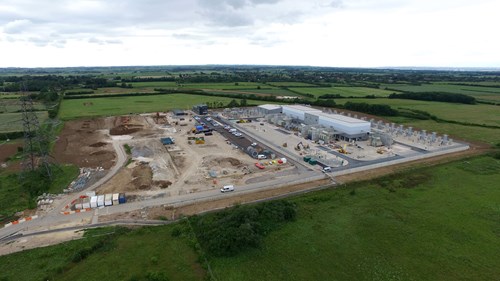 Image: Aerial shot of preparatory works taking place for Hornsea Project Two's onshore substation