Balfour Beatty today announces that it has been selected as one of ten preferred bidders on SSEN Transmission's c. £10 billion Accelerated Strategic Transmission Investment (ASTI) framework, responsible for delivering the onshore transmission infrastructure within SSEN's 'Pathway to 2030' network redevelopment programme.
Contract awards including defined scope and value of works are expected later in 2023. 
Balfour Beatty's works will include the delivery of the overhead lines, underground cables and substations needed to redevelop the transmission network in the north of Scotland between now and 2030.
A significant step forward in the major upgrade of the electricity transmission network, on completion, the programme will help to meet the UK and Scottish Government's 2030 renewable energy and climate change targets. In addition, it will contribute to securing future energy independence by enabling the connection and transportation of affordable and homegrown low carbon power, reducing the country's dependence on global wholesale energy markets.
Balfour Beatty's selection builds on its unrivalled experience in delivering complex onshore electricity transmission projects, having been appointed by SSEN Transmission in 2019 to deliver the first and second phase of overhead line works which are ongoing in the West of Scotland between Port Ann and Crossaig.
The company is also delivering a new 400 kilovolt substation and associated cabling and overhead line works on behalf of SSEN Transmission in Peterhead, to ensure the continued safe supply of power to the North East of Scotland.
Ian Currie, Managing Director of Balfour Beatty's Power Transmission & Distribution business, said, "Having worked closely and collaboratively with SSEN Transmission for over 40 years, we are delighted to be contributing to the upgrade of the electricity transmission network through their latest framework.
"As the largest power transmission contractor in the UK, we will utilize our expert capability and extensive experience to play our part in providing secure energy for the surrounding area for the future".
Rob McDonald, Managing Director of SSEN Transmission, said: "Our Pathway to 2030 network redevelopment programme will play a huge role in delivering Scotland and the UK's net zero targets and the selection of this group of preferred bidders for crucial elements of that redevelopment work is a massive step forward in delivering that.
"As we aim to conclude contract negotiations in the coming weeks and months, we look forward to working with each of the selected contractors in the delivery of our 'Pathway to 2030'projects.
"Not only will this work support the delivery of UK and Scottish Government net zero and energy security targets, but our forthcoming investments will provide significant local and national economic opportunities, helping unleash the economic potential of the north of Scotland."
ENDS
Media enquiries to:
Antonia Walton
Balfour Beatty
+44 (0)203 810 2345
antonia.walton@balfourbeatty.com 
www.balfourbeatty.com | follow us @balfourbeatty
All non-media related enquiries should be directed to +44 (0)20 7216 6800 or info@balfourbeatty.com
Notes to editors:
Balfour Beatty is a leading international infrastructure group with 25,000 employees driving the delivery of powerful new solutions, shaping thinking, creating skylines and inspiring a new generation of talent to be the change-makers of tomorrow.
We finance, develop, build, maintain and operate the increasingly complex and critical infrastructure that supports national economies and deliver projects at the heart of local communities.
Over the last 114 years we have created iconic buildings and infrastructure all over the world. Currently, we are working to deliver Hinkley Point C, the first UK nuclear power station in a generation; constructing the world-class arts and cultural facility, the Lyric Theatre, in Hong Kong; and designing, building, financing, operating and maintaining the Automated People Mover superstructure at the fifth busiest airport in the world, Los Angeles International Airport.
Balfour Beatty's Power Transmission & Distribution teams work with regional, national and international electricity network owners and operators to provide technical engineering solutions across the full spectrum of the electricity grid, including overhead lines, cabling, substations and distribution networks. From scoping and feasibility, to design, construction and on-going maintenance, our in-house experts, flexible resources and industry-leading innovations support clients in the development of some of the UK's most ambitious power transmission and distribution projects.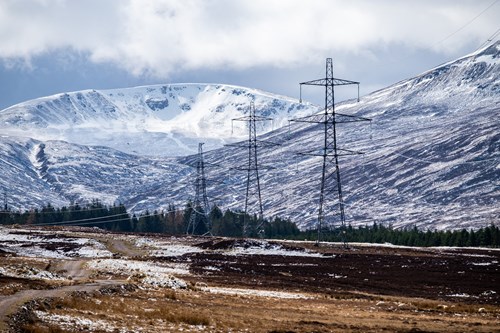 Power transmission lines in Scotland courtesy of SSEN Transmission