Balfour Beatty today announces that it has been appointed as preferred bidder by Royal Holloway, University of London, for the development of a student village at Rusham Park in Egham, Surrey.
In partnership with Royal Holloway under a fifty-year concession contract, Balfour Beatty will design, build, finance and operate, alongside Student Living by Sodexo, a new 1,400 room student village at Rusham Park. In addition, the company will operate the existing 621-bed George Eliot student accommodation complex in London.
Balfour Beatty Investments will invest 85% of the equity to finance the project with Royal Holloway investing the remaining 15%. Bringing together expertise from across the Group, Balfour Beatty's UK Construction Services business will be responsible for the construction of the new student village at Rusham Park.
As part of the c.£130 million design and build phase, Balfour Beatty will deploy modern construction methods such as the offsite manufacturing of the external walls, floors and bathroom pods, to improve health and safety and reduce the overall project duration.
To support Balfour Beatty and Royal Holloway in achieving their bold and ambitious net-zero carbon targets, energy efficient systems, such as air source heat pump technology, will be deployed throughout the build.
On completion, the project will form a critical part of the University's plan to provide affordable but high-quality living, social and amenity spaces for its growing student population.
Ion Appuhamy, Managing Director of Balfour Beatty Investments, said: "We are delighted to be appointed as preferred bidder and to work in partnership with Royal Holloway. Our appointment to deliver the student village development at Rusham Park demonstrates our ongoing success in the student accommodation market.
"We are well-placed to support Royal Holloway with their ambitions, providing an integrated design, build, finance and operations offering which will ensure the seamless delivery of this essential and sustainable project."
Michael Berry, Director of Estates for Royal Holloway, University of London, added: "We are very pleased to be able to announce Balfour Beatty as our preferred bidder for the development of the Rusham Park student village.
"Our goal is to continue to evolve our campus, developing the services and facilities we offer in order to enhance the student experience and create the optimum environment for student success."
With financial close anticipated in early 2022, construction is due to commence shortly thereafter with completion scheduled ahead of the 2024/25 academic year.
ENDS
Media enquiries to:
Vivienne Dunn
Balfour Beatty
+44 (0)203 810 2345
vivienne.dunn@balfourbeatty.com
www.balfourbeatty.com | follow us @balfourbeatty
All non-media related enquiries should be directed to +44 (0)20 7216 6800 or info@balfourbeatty.com
Notes to editors:
Balfour Beatty (com) is a leading international infrastructure group with 26,000 employees driving the delivery of powerful new solutions, shaping thinking, creating skylines and inspiring a new generation of talent to be the change-makers of tomorrow.
We finance, develop, build, maintain and operate the increasingly complex and critical infrastructure that supports national economies and deliver projects at the heart of local communities. 
Over the last 111 years we have created iconic buildings and infrastructure all over the world including: the £1.5 billion A14 improvement scheme - Britain's biggest road project; Hong Kong's HK$5.5 billion world-class harbour theatre project for the West Kowloon Cultural District Authority; and the 12.5 mile $429 million North Metro Commuter Rail line in Colorado, US.
Balfour Beatty Investments is an international infrastructure investor operating in the UK and US. We provide the investment capability required to deliver complex infrastructure projects. Over the past 22 years, Balfour Beatty Investments has established itself as one of the largest investors in the PPP industry, building a portfolio of more than 70 projects worldwide, predominantly in the UK and North America.
In recent years, Balfour Beatty Investments has diversified into new markets including student accommodation, private rental sector housing (multi-family housing in the US) and generation and transmission of renewable energy. The company has most recently expanded its approach from a PPP contractor to a broader developer and investor.
Significant projects in its current portfolio include the £400 million East Wick & Sweetwater development in East London and The University of Sussex east slope campus development.
Iconic projects of the past include the £550 million Aberdeen Western Peripheral Route in partnership with Transport Scotland and the student accommodation project for Aberystwyth University
Balfour Beatty's UK and Ireland regional construction business is a leading integrator of complex, sophisticated and innovative projects that improve national infrastructure.
Successfully delivering efficient and sustainable projects at the heart of local communities as well as those of national significance, we work closely and collaboratively with our customers to always leave behind a positive, lasting legacy and deliver benefit for the communities in which we operate.
Significant projects in its current portfolio include includes the £267 million Midlands Metropolitan hospital contract to deliver the main construction works to the 80,000 square metre hospital on behalf of Sandwell and West Birmingham Hospitals NHS Trust, the £287 million Manchester Engineering Campus Development which represents one of the largest capital developments ever undertaken by a UK higher education institution, the £150 million contract to deliver the main construction works for the 53-storey Madison Tower in Canary Wharf and the £170 million contract to upgrade baggage screening and handling systems at Heathrow Airport.
Notable projects of the past include the £46 million foundation works at One Nine Elms in Vauxhall, a £28 million contract to regenerate a region to the south of Battersea Power Station, the £40 million renovation and extension of the Grade II listed Bristol Fry Building providing state-of-the-art mathematic facilities for The University of Bristol, the £85 million Vine Street student accommodation in the City of London on behalf of Urbanest and the £28.5 million Dundee railway station on behalf of Dundee City Council, forming a part of the Council's regeneration programme and aiming to create a strong and sustainable city economy that will raise the quality of life and improve the local environment.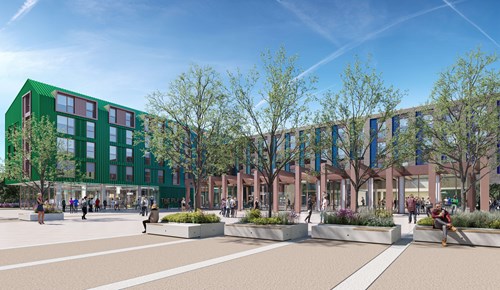 Image: New student village at Rusham Park in Egham, Surrey