Balfour Beatty and Southampton City Council have received a prestigious technology award after winning a top accolade at the V3 Digital Technology Leaders Awards 2016.
The partnership secured the award for 'Best Public Sector Digital Project', for their submission 'Shaping Southampton through Digital Excellence'.
The awards, which celebrate digital innovation and the people making it happen, were held in London with over 180 digital leaders in attendance.
The project was the culmination of five years of investment and continuous improvement in digital technologies, in partnership with Southampton City Council, to drive greater customer satisfaction and more efficient operational delivery.
The judges praised the project as, "an excellent example of exactly how councils should be looking at using technology, visualisations and data to improve the services they offer to their citizens and a model that other councils should look at when considering implementing similar strategies."
Amanda Fisher, Balfour Beatty Living Places Managing Director, said:  "This award recognises the way in which technology and digital solutions have been used to improve the environment for people living, working and visiting Southampton."
Councillor Jacqui Rayment, Southampton City Council's Cabinet Member for Environment and Transport, said: "The 'Best Public Sector Digital Project' award recognises the Southampton Highways Partnership's commitment to reshaping Southampton's infrastructure for the benefit of the whole city. Balfour Beatty has successfully worked alongside Southampton City Council for many years, delivering innovation and driving changes that offer real improvements for residents and visitors.
"Balfour Beatty's use of digital technology to deliver a vision for radical change deserves this recognition. Achieving a reduction in fuel usage in the city, alongside a significant saving for the council, is an exceptional achievement and provides a blueprint to other organisations in the sector to follow.
"This work is just one part of Balfour Beatty's contribution to Southampton City Council's drive to modernise and utilise the latest technology to deliver excellent outcomes. Together we are improving systems behind the scenes so that we deliver high quality, efficient services and create an organisation that is fit for the challenges of the future."
ENDS
Media enquiries to:
Rebecca Jones
Balfour Beatty
t:   +44 (0) 207 963 2150
e:  Rebecca.Jones2@BalfourBeatty.com
For all non-media related enquiries please contact +44 (0)20 7216 6800 or info@balfourbeatty.com
Notes to editors:
Balfour Beatty (www.balfourbeatty.com) is a leading international infrastructure group. With 34,000 employees, we provide innovative and efficient infrastructure that underpins our daily lives, supports communities and enables economic growth. We finance, develop, build and maintain complex infrastructure such as transportation, power and utility systems, social and commercial buildings.
Our main geographies are the UK, US, Middle East and South East Asia. Over the last 100 years we have created iconic buildings and infrastructure all over the world including the London Olympics' Aquatic Centre, Hong Kong's first Zero Carbon building, the world's biggest shopping mall in Dubai, the National Museum of the Marine Corps in the US and the Channel Tunnel Rail Link.
Balfour Beatty Living Places works in long-term partnerships with local authorities to create great places to live, work and play. We actively engage with local people to understand the needs of the communities we work in and shape the places where local economies can thrive and grow. We're a leader in sustainable working, diversity and social value, and we use our expertise to bring real, positive change for our customers. We leave a legacy of connected communities with strong local economies that really work for local people with clean, safe and prosperous streets and social spaces.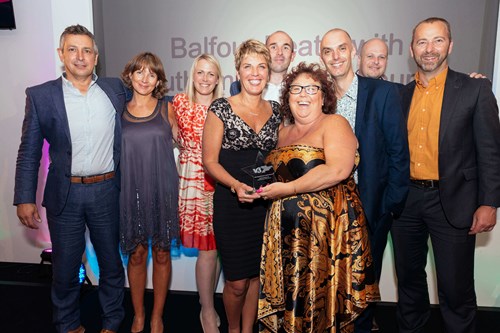 Photo Caption: L-R Steve Helliwell, Vanessa Veal, Philippa Hammersley, Amanda Fisher (front left) Brian Hammersley (behind) Councillor Jacqui Rayment (front right) Paul Paskins, Paul walker (back), Mike Harris