Balfour Beatty and its ProCure21+ framework partners have won the award for Supply Chain Excellence at the Construction News Awards 2016. The award recognises the work undertaken across the supply chain management of ProCure21+, to develop and deliver repeatable room arrangements.
Balfour Beatty, working alongside five other major Contractors (Galliford, IHP, Interserve, Kier and Willmott Dixon), 60 NHS Trusts, 40 Supply Chain Members and over 500 stakeholders, have developed evidence based healthcare designs that improve patient care whilst reducing capital construction costs.
Since its launch, the project has delivered 14 repeatable room arrangements; including Adult Acute single bedrooms, 4 multi-bed bays, consultation rooms and organic mental health bedrooms, as well as a series of standardised components and specifications. Having already saved over £1.5 million and with five projects delivered using the repeatable arrangements; the Department of Health is expected to see cost reductions of approximately £30 million per annum.
Commenting on the award win, Construction News judges, said, "The focus on reaching all parts of the supply chain, as well as customers, hospital staff and patients, in more than 1,000 projects is both innovative and market leading. Through collaboration, the team has been able to add value, improve design and eliminate waste to deliver outstanding results."
As well as this particular win, the ProCure21+ repeatable room work has won multiple awards, including: Constructing Excellence: Integration and Collaborative Working, Design in Mental Health: Service User Engagement, and British Construction Industry: Product Innovation.
ENDS
Media enquiries to:
Vivienne Dunn
Balfour Beatty
t:  +44 (0) 207 963 2150
e: Vivienne.Dunn@balfourbeatty.com
For all non-media related enquiries please contact +44 (0)20 7216 6800 or info@balfourbeatty.com

Notes to editors:
Balfour Beatty (www.balfourbeatty.com) is a leading international infrastructure group. With 34,000 employees, we provide innovative and efficient infrastructure that underpins our daily lives, supports communities and enables economic growth. We finance, develop, build and maintain complex infrastructure such as transportation, power and utility systems, social and commercial buildings.
Our main geographies are the UK, US, Middle East and South East Asia. Over the last 100 years we have created iconic buildings and infrastructure all over the world including the London Olympics' Aquatic Centre, Hong Kong's first Zero Carbon building, the world's biggest shopping mall in Dubai, the National Museum of the Marine Corps in the US and the Channel Tunnel Rail Link.
Balfour Beatty is a trusted delivery partner to the healthcare sector and has delivered £2 billion worth of healthcare projects in the past decade providing 800 mental health beds and 3000 acute beds.  It has strong financial covenants providing clients with financial certainty for schemes requiring private sector investment. With its specialist Engineering Services business, Balfour Beatty is able to provide innovative and cost-effective solutions such as its award-winning off-site manufacturing facility, Modular Systems+. 
Balfour Beatty is the only national construction partner on all three of the UK's health frameworks (Procure21+,Designed for Life Wales 3 and NHS Frameworks Scotland 2) designed to provide value for money and knowledge sharing in the healthcare build sector. Balfour Beatty achieved the Department of Health's Cost Reduction Programme target to reduce public construction cost by 15% by 2015 and is continuing to embed beneficial supply chain arrangement and repeatable design solutions into all NHS projects.
Current schemes include the £46m Acute Mental Health and North Ayrshire Community Hospital in Irvine, the £26m Guys Hospital Tower Wing, the £50m Great Ormond Street Hospital refurbishment projects, the £17.5m Wellington Hospital Platinum Centre project in St John's Wood, (Britain's largest private hospital); £30m mechanical services for the Cramlington Hospital near Newcastle, £7m St Mary's Hospital Older Persons Unit, Kettering, £23m Women and Children's centre at Princess Royal Hospital Telford, and the new £23m QEII Hospital in Hertfordshire.
Hospitals and healthcare facilities recently completed by Balfour Beatty include the £553m Queen Elizabeth Hospital in Birmingham, the £252m University College Hospital in Middlesex, the £180m Stobhill and New Victoria Hospitals in Glasgow, the £172m Victoria Acute Hospital in Kirkcaldy, Fife, the £136m Salford Royal Hospital and the £78m Tameside Hospital.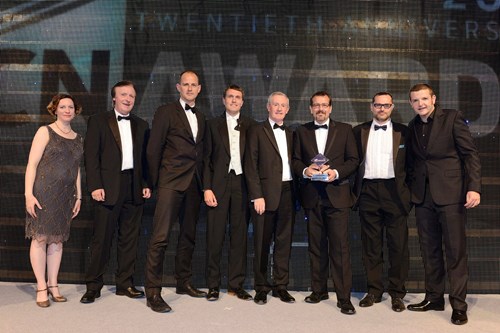 Photograph: ProCure21+ team receiving award