Coventry City Council and Balfour Beatty are celebrating the completion of an extensive street lighting upgrade. The £55 million investment saw lighting for streets, signage and bollards installed and upgraded across the city. The works took just over five years to complete.
'Lighting Coventry', has seen thousands of lighting column types replaced with modernized alternatives within various wards of the city.  Lighting Coventry commissioned an asset survey of the existing street lighting stock in order to prioritise the replacement of lighting columns based on condition.
The project saw over 25,000 new lighting columns installed as well as a further 11,500 lights for signs and bollards replaced with energy efficient alternatives. The works have brought the city's lighting system up to current British and European standards.
Amanda Fisher, Managing Director for Balfour Beatty Living Places said, "Coventry can now enjoy the benefits of the work which include a reduction in the city's emissions by 38%, savings on energy costs and creating a safer and more pleasant environment for everyone."
Cllr Jayne Innes, Coventry City Council's Cabinet Member for City Services, said, "The city's lighting is now more energy efficient and effective than ever before, which means that our streets are brighter and safer for the people living and travelling around Coventry."
ENDS
Media enquiries to:
Rebecca Jones
Balfour Beatty
t:   +44 (0) 207 963 2150
e:  Rebecca.Jones2@BalfourBeatty.com
For all non-media related enquiries please contact +44 (0)20 7216 6800 or info@balfourbeatty.com
Notes to editors:
Balfour Beatty (www.balfourbeatty.com) is a leading international infrastructure group. With 34,000 employees, we provide innovative and efficient infrastructure that underpins our daily lives, supports communities and enables economic growth. We finance, develop, build and maintain complex infrastructure such as transportation, power and utility systems, social and commercial buildings.
Our main geographies are the UK, US, Middle East and South East Asia. Over the last 100 years we have created iconic buildings and infrastructure all over the world including the London Olympics' Aquatic Centre, Hong Kong's first Zero Carbon building, the world's biggest shopping mall in Dubai, the National Museum of the Marine Corps in the US and the Channel Tunnel Rail Link.
Balfour Beatty Living Places works in long-term partnerships with local authorities to create great places to live, work and play. We actively engage with local people to understand the needs of the communities we work in and shape the places where local economies can thrive and grow. We're a leader in sustainable working, diversity and social value, and we use our expertise to bring real, positive change for our customers. We leave a legacy of connected communities with strong local economies that really work for local people with clean, safe and prosperous streets and social spaces.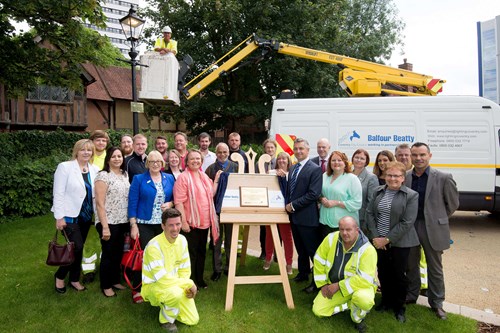 Photo caption: Balfour Beatty and Coventry City Council celebrate completion of works