Acquisition enhances Balfour Beatty's position in the UK Rail market and expands the global reach of Omnicom Engineering's unique asset monitoring systems
Balfour Beatty, the international infrastructure group, today announces its acquisition of Omnicom Engineering Limited.
Founded in 1995, Omnicom Engineering is an innovative UK company which specialises in the development of vehicle borne software and hardware platforms for asset survey, inspection and monitoring for use across the transportation sector to enhance effectiveness of infrastructure assets. The company, based across Derby and York, has a client base which includes Network Rail in the UK and Australia's largest rail freight operator, Aurizon.
This investment in Balfour Beatty's UK rail business will offer clients unrivalled expertise across the rail infrastructure lifecycle; from feasibility studies and planning through to design and implementation, maintenance and asset management.  
Mark Bullock, Managing Director of Balfour Beatty's UK Rail business, said: "Omnicom Engineering is a true innovator which is benefiting from over twenty years of investment in research and development. We will leverage this expertise alongside the high speed laser measurement technology that already exists within Balfour Beatty, to provide unrivalled technical solutions to clients in the growing high-speed and unattended data collection market in which we see opportunities for increasing our business. 
"Together, Omnicom and Balfour Beatty's range of asset management solutions will offer an unrivalled richness of information to support the maintenance of roads and railways across the world."
Omnicom Engineering specialises in video and laser surveys, in addition to high-speed video inspection, such as OmniVision which enables clients to replace manual track inspection with automated machine vision from a high speed vehicle. Balfour Beatty's existing systems include   high -speed laser and inertial measurement of track geometry, infrastructure gauge, points condition monitoring and software solutions to visualise condition and support asset management decisions.

ENDS
Media enquiries to:
Gill Stephens
Balfour Beatty
+44 (0) 207 121 3873 
gill.stephens@balfourbeatty.com
www.balfourbeatty.com | follow us @balfourbeatty
All non-media related enquiries should be directed to +44 (0)20 7216 6800 or info@balfourbeatty.com

Notes to editors:
• Co-founder and CEO of Omnicom Engineering Limited, Stirling Kimkeran, will continue to play a significant role in Balfour Beatty Omnicom, leading technical sales development across markets including SE Asia and Japan.
• Balfour Beatty (www.balfourbeatty.com) is a leading international infrastructure group. With 34,000 employees, we provide innovative and efficient infrastructure that underpins our daily lives, supports communities and enables economic growth. We finance, develop, build and maintain complex infrastructure such as transportation, power and utility systems, social and commercial buildings.
• Our main geographies are the UK, US, Middle East and South East Asia. Over the last 100 years we have created iconic buildings and infrastructure all over the world including the London Olympics' Aquatic Centre, Hong Kong's first Zero Carbon building, the world's biggest shopping mall in Dubai, the National Museum of the Marine Corps in the US and the Channel Tunnel Rail Link.
• Balfour Beatty is one of the UK's leading rail infrastructure suppliers. From feasibility studies, planning and design through to implementation and asset management, we provide multi-disciplinary rail infrastructure services across the lifecycle of rail assets. Our expertise covers electrification, track, power, civils, specialist rail plant, railway systems and technologies. Balfour Beatty's current portfolio of rail projects includes the Track Partnership contract for London Underground, Thameslink London Bridge, Crossrail's Abbey Wood station and Crossrail's West Outer electrification project.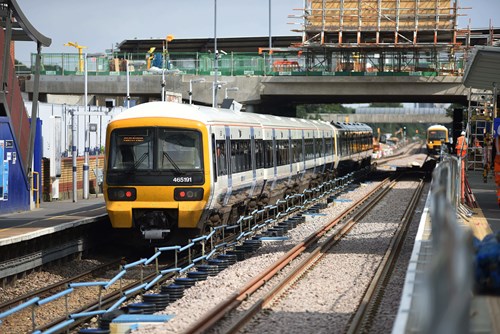 Image: Omnicom's flagship product OmniVision, utilised by Network Rail, combines high resolution cameras and pattern recognition software, offering a revolutionary advance in technology for inspecting, mapping and monitoring of difficult to access areas. Eight hours of data can be captured at speeds over 160km/h and processed within 48 hours.