Balfour Beatty, the international infrastructure group, has been recognised by the Ministry of Defence with a Silver Award in its Defence Employer Recognition Scheme.
The Award celebrates businesses which demonstrate their support for the employment of service personnel, including, reservists, armed forces veterans (including wounded, injured and sick) and military spouses/partners.
Matt Davies, Project Manager at Balfour Beatty said: "Receiving this award is an important achievement for Balfour Beatty as it recognises our ongoing commitment to all aspects of Defence: Regular, Reservist and Veteran alike. The ERS gives a framework for us to deepen this relationship to the benefit of the defence and construction industry alike, which requires a skill set ideally suited to military personnel.
"As an ex-Royal Engineer and having served in an integrated Regular/Reserve EOD unit, I am particularly pleased to have a foot in each camp, and we – Balfour Beatty – will continue to aspire and work towards the ERS Gold Award in the future".
Congratulating the winners, Mark Lancaster, TD VR MP, Minister for Defence Veterans, Reserves and Personnel said: "I'm delighted to hand out these well-deserved awards. As a serving Reservist for the past 29 years I'm in a privileged position to be in a job I'm very passionate about. The Employer Recognition Scheme is incredibly valuable and as a department we value the support you provide to our service personnel. You have done our Armed Forces personnel proud and very much deserve this recognition. I would like to thank you for backing our reservists, recognising the value of the skills, flexibility and professionalism they bring to your workplace".
With growing demand for skilled workers in the industry and an increasing number of major infrastructure projects planned across the UK and globally, Balfour Beatty is committed to increasing diversity in its talent pool. Balfour Beatty's servicemen and women bring a host of transferrable skills, such as leadership, collaboration and a positive mindset, which are integral to the successful delivery of infrastructure schemes.
ENDS
Media enquiries to:
Vivienne Dunn
Balfour Beatty
+44 (0)207 963 2150
vivienne.dunn@balfourbeatty.com
www.balfourbeatty.com | follow us @balfourbeatty
All non-media related enquiries should be directed to +44 (0)20 7216 6800 or info@balfourbeatty.com
Notes to editors:
• Balfour Beatty (www.balfourbeatty.com) is a leading international infrastructure group. With 34,000 employees, we provide innovative and efficient infrastructure that underpins our daily lives, supports communities and enables economic growth. We finance, develop, build and maintain complex infrastructure such as transportation, power and utility systems, social and commercial buildings.
• Our main geographies are the UK, US, Middle East and South East Asia. Over the last 100 years we have created iconic buildings and infrastructure all over the world including the London Olympics' Aquatic Centre, Hong Kong's first Zero Carbon building, the world's biggest shopping mall in Dubai, the National Museum of the Marine Corps in the US and the Channel Tunnel Rail Link.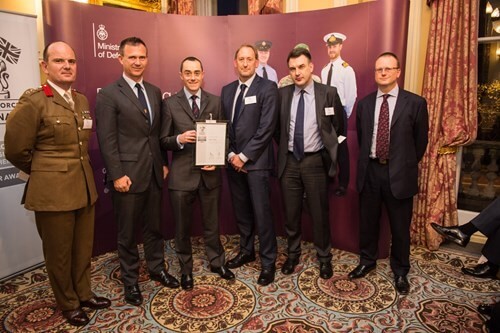 Image: Paul Raby, Peter Gold, Matt Davies and Tony Ellender of Balfour Beatty receiving the ERS Silver award