Fundraising and volunteering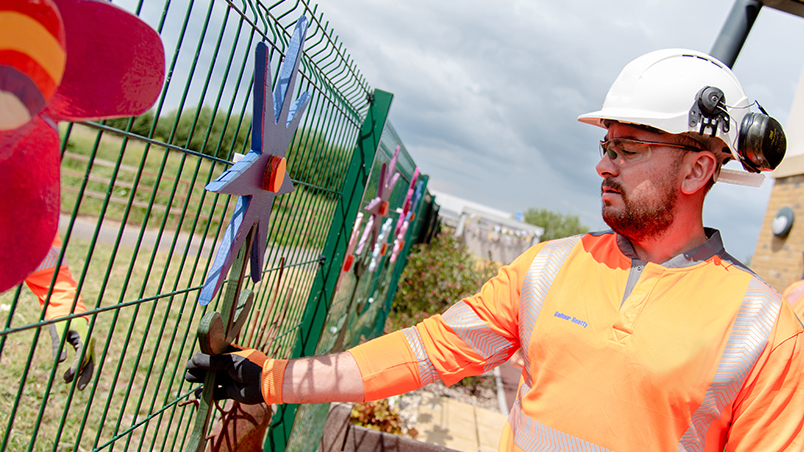 A partnership for communities
Through our fundraising and volunteering works, we go beyond our day-to-day delivery of amazing engineering and construction feats to make a difference in local communities.
As part of our 2040 ambition to Positively Impact More than 1 Million People and to empower our people to give something back to the communities we work in, we've partnered with The Prince's Trust, Groundwork and Project RECCE, making an initial donation of £50,000 to each organisation. We've chosen these partners because their focus areas match our own, giving us the chance to improve as many lives as possible.
Our people each have up to 16 hours paid volunteer leave each year and we've set aside £100,000 to match any funds they raise for our partners.
As well as supporting The Prince's Trust, Groundwork and Project RECCE, we will continue to work with our associate charity partners who support our business objectives, including The 5% Club, Mates in Mind and Women into Construction as well as local charity partners who give us the opportunity to positively impact local people and good causes.
Our Corporate Charity Partners
We're continuing our 15-year partnership with The Prince's Trust, where we have raised £1.5 million so far through various activities such as the annual London to Brighton cycle ride.
The Prince's Trust works with young people aged 11 to 30 to provide opportunities as well as the tools to start their careers and learn. Our people can get involved in supporting the Prince's Trust through a range of activities that help young people to develop their skills to find work or start their own business. In total there are 10 core programmes offered by the Trust including 'Achieve' which helps young people who are struggling with mainstream education, 'Get into' which gives young people first hand training and experience, 'Explore' which provides support to bring structure and stability into the lives of young people and 'Get Hired' which supports young people through the interview and selection process.
Focussing on transforming lives in the UK's most disadvantaged communities, we aim to make a positive difference to their mission of mobilising practical community action on poverty and environment across the UK.
Groundwork are passionate about creating a future where neighbourhoods and communities are strong and allow individuals to establish their own paths without restrictions based on their backgrounds or circumstances.
With Groundwork, our people can take part in fundraising activities and have the opportunity to get involved in the Breath‑easy schools programme. The programme is designed to improve air quality at schools across the UK through various initiatives that our people can volunteer to take part in as well as by providing STEM learning opportunities for children.
Project RECCE supports veterans looking to embark on new careers in construction. We are confident our experts will make a positive difference in supporting service leavers to gain sustained employment within our industry.
We are delighted to partner with them to support veteran transition into the construction industry whilst also helping to reduce the skills shortages within the industry and do this as part of their structured, three phase programme.
Through the programme, veterans initially complete an online course to gain health and safety qualifications and improve their networking skills as well as taking part in sector specific training and mock interviews. Following the online course, veterans are given the opportunity to complete work trials as well as completing further training. The final phase of the programme supports veterans through ongoing counselling, coaching and mentoring.
"Our partnership provides a valuable first step for young people into employment and insight into sustainable employment within the Built Environment sector." 
Emily Larkin, Head of Partnerships, The Prince's Trust