A13/A130 Sadlers Farm
We are undertaking a programme of remedial works on the A13/A130 Sadlers Farm scheme on behalf of Essex County Council from October 2017.
The works, to improve the longevity and reliability of the key junction, will include the upgrading of existing drainage systems on the A13 Link Road, the replacement of bearings on two bridges and carriageway strengthening on the A13 near Pitsea. 
We will implement a multi-phase traffic management plan, comprising of a series of lane closures, overnight and weekend works to carry out the works which will inevitably and unfortunately cause some disruption to road users and local communities. Visit our project news page for more information.
Much of the work will be completed away from the road, overnight and on weekends to reduce disruption to road users and the local community. Lane closures will only be used where they are essential to manage the safety of the workforce, public and the volume of traffic through this key road network during these essential works.
The final phased programme of remedial works at Sadlers Farm is planned to complete at the end of 2020.
The remaining works to the end of 2020 include the drainage upgrades, bridge remedial works, replacement of bearings on two bridges, various fencing improvements and surfacing works on London Road and A13/A130.
Some of these bridge remedial works will involve a full closure of the Eastbound A13 diverge between the main A13 and Sadlers Farm Roundabout in the Summer 2020 to undertake intrusive structural repair work to Sadlers Farm Bridge, plus various weekend closures in September and October 2020 of the A130 North Bound onslip/merge from Sadlers Farm Roundabout towards Rayleigh Spur Roundabout to undertake structural repair work to Sadlers Hall Bridge. 
Subject to ECC Network Assurance approvals, these dates may change.
Balfour Beatty has now completed the site works on the main A13/A130 carriageway on programme to enable traffic to use all lanes in both directions. 
Completed Works:
A13 Pitsea Parapet safety barrier connection works.
A13 verge works such as maintenance layby drainage, guardrail to embankment, and slope regrading; Church Road Bridge drip flats, drainage pipe through pre-cast concrete earth retaining wall panels, wall and bridge intersection with soil nail slope; and Church Road Subway silane treatment.
Drainage and kerb alignment at Sadlers Farm car boot sale entrance.
Kerbs on Brackendale Avenue to protect the edge clearance to the Vehicle Actuated Sign on the A13 Westbound off slip to Pitsea Interchange.
Realign kerb on A130 Canvey Way, and reconstruction of Sign SNP02 on A130 Canvey Way.
Pound Lane ditches, fence alignment, scour protection, label to mini feeder pillar, mortar fill to brickwork at Sadlers Farm Estate, and outfall grills.
250metres length of full depth carriageway construction of A13 Vehicle Crossover both East & West
Rushbottom Culvert reconstruction and reprofiling for flood management measures
Removal of Contiguous Bored Pile (CBP) Wall blockwork and fill material for new drainage system
A13 & A130 longitudinal crack sealing.
Progress photos - July 2019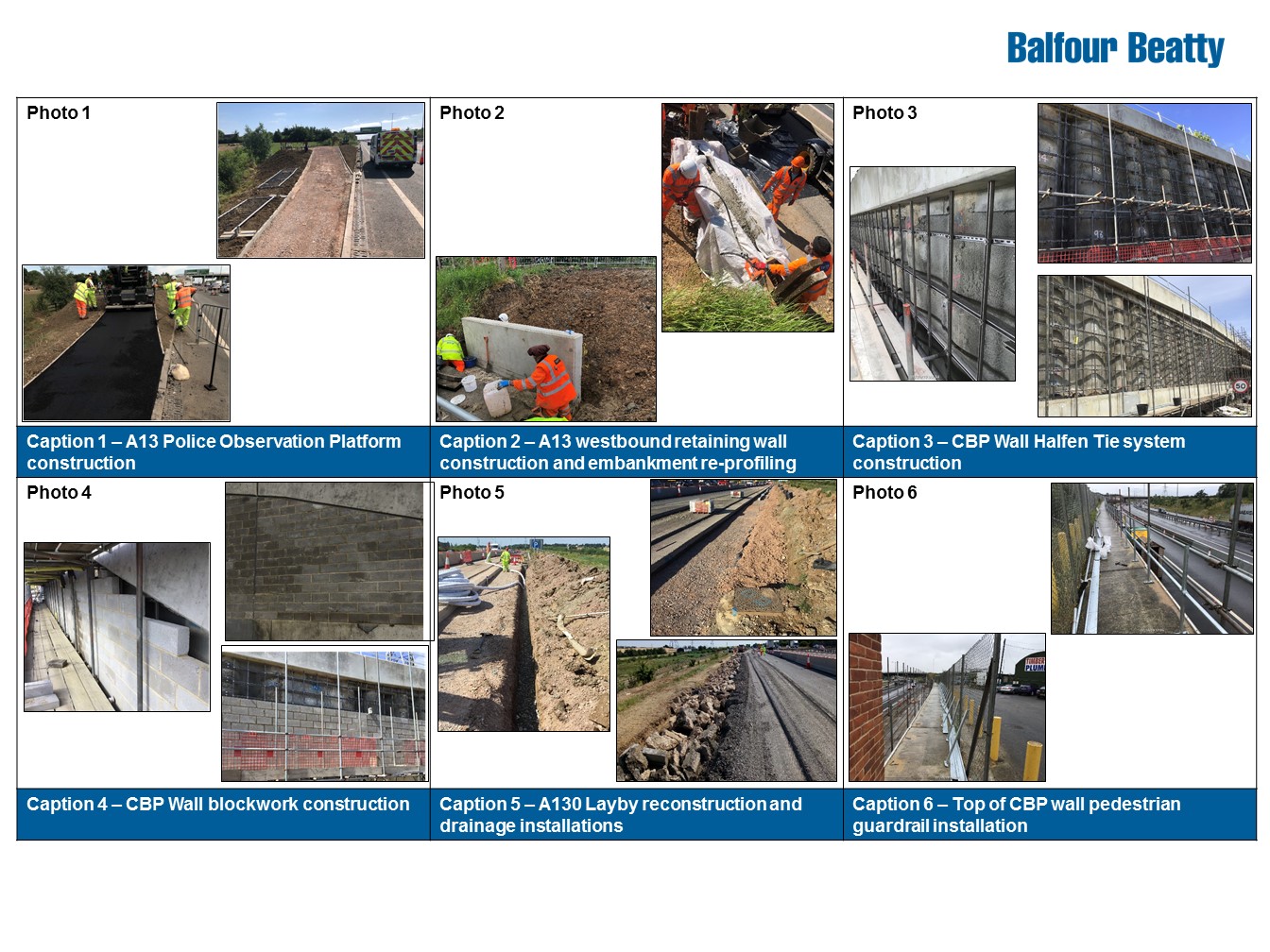 Progress photos - June 2019 
Progress photos - May 2019
Progress photos - April 2019
Progress photos - March 2019
Progress photos - February 2019
Progress photos - January 2019
Progress photos - October 2018
Progress photos - August 2018
Progress photos - May 2018