Balfour Beatty, the international infrastructure group, has been awarded, in joint venture, the $1.08bn (c. £807m) Green Line Extension design and build contract by the Massachusetts Bay Transportation Authority (MBTA).
The four-way equal joint venture comprising Balfour Beatty, Fluor Corporation, The Middlesex Corp. and Herzog Contracting Corp, will design and build the new 4.7-mile commuter rail extension, associated infrastructure and seven new rail stations. The MBTA plans for the trains to operate every five to six minutes during peak periods and projects daily passenger journeys at the seven stations will be 45,000 by the year 2030. Balfour Beatty's revenue share is 25 percent.
Leo Quinn, Balfour Beatty Group Chief Executive, said: "It's satisfactory that we end 2017 with another landmark contract win. The Green Line Extension project will play a key role in helping support Greater Boston's plans for urban redevelopment and sustainable growth.  Following wins on projects such as HS2, Hinkley Point and Dallas' Southern Gateway earlier in the year, Balfour Beatty is very well placed as we head into 2018."
Construction is expected to commence in 2018 and is scheduled for completion in 2021. At its peak the project will employ over 100 staff
- ENDS -
Media enquiries to:
Will Swan
Balfour Beatty
+44 (0)203 810 2509
www.balfourbeatty.com | follow us @balfourbeatty
All non-media related enquiries should be directed to +44 (0)20 7216 6800 or info@balfourbeatty.com
Notes to editors:
• Balfour Beatty (www.balfourbeatty.com) is a leading international infrastructure group. With 30,000 employees, we provide innovative and efficient infrastructure that underpins our daily lives, supports communities and enables economic growth. We finance, develop, build and maintain complex infrastructure such as transportation, power and utility systems, social and commercial buildings.

• Our main geographies are the UK, US and Far East. Over the last 100 years we have created iconic buildings and infrastructure all over the world including the London Olympics' Aquatic Centre, Hong Kong's first Zero Carbon building, the National Museum of the Marine Corps in the US and the Channel Tunnel Rail Link.

• Balfour Beatty's US business is an industry-leading provider of general contracting, at-risk construction management and design-build services for public and private sector clients across the nation. Performing heavy civil and vertical construction, the company is consistently ranked among the nation's largest building contractors, and is the No. 6 Domestic Building Contractor as ranked by Engineering News-Record. To learn more, visit www.balfourbeattyus.com

• Balfour Beatty's current portfolio of projects in the US includes the US$697 million contract to undertake electrification of the 52-mile Caltrain rail corridor between San Francisco and San Jose, laying the foundations for the future operation of high speed trains; the $625 million contract to reconstruct and improve the 'Southern Gateway', an 11 mile stretch of road in Dallas, Texas, a contract awarded in joint venture to Pegasus Link Constructors LLC, a joint venture between Balfour Beatty (45 per cent) and Fluor Corporation (55 per cent) which will enhance traffic flow for 180,000 motorists every day for the Texas Department of Transportation; the US$260 million Harrison Medical Centre project in Seattle; and the US$100 million  contract to serve as construction manager for Cleburne Independent School District's (CISD).

• In 2006, the American Road and Transportation Builders Association (ARTBA) recognized MBTA's Greenbush Railroad Restoration project with its first place, private sector PRIDE Award. Established by the ARTBA board of directors in October 1999, the PRIDE Awards honour excellence in community relations and public education that enhance the image of U.S. transportation construction industry.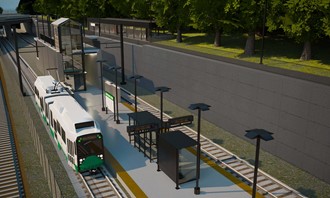 Image: Green Line Extension