Positively Impact More Than 1 Million People
2030 target
£3 billion social value generated
Measurement
Social Value National TOMS Framework1
Primary UN Sustainability Development Goals
Infrastructure already has a hugely positive impact on people's lives. From transport links which help people access jobs, leisure activities and friends and family, to the assets which deliver the water and energy to homes and businesses around the world, its impact is felt every second of every day.
But beyond the immediate benefits of the assets themselves, the sector also has a significant social impact: regenerating communities, driving employment and training opportunities, enhancing biodiversity, supporting small, local supply chain partners and minority businesses, boosting growth. It literally has the power to transform lives and build new and better futures. This 'social value' has long been embedded in how Balfour Beatty operates. For us, it's a core element of leaving a meaningful, lasting legacy in the communities we work with and it has seen the projects we deliver improve the wellbeing and prosperity of many thousands of people. But we want to go further. We want to make it clear how important this is to us by making it our ambition to Positively Impact More than 1 million People by 2040.
Making a positive impact
Our ambition to Positively Impact More than 1 Million People between now and 2040 seeks to build upon our existing social value measures to capture the broader positive and lasting impact we have on people's lives. This means, for example, that we'll look more holistically at the wider impact of the volunteering our workforce undertake, and the number of people positively impacted, rather than simply counting the number of days spent volunteering. It's about a greater focus on, and increased quality of the outcomes we deliver.
Our many years as a leader in this area will allow us to share best practice and cross-pollinate ideas across our three geographies, which will each have different approaches, priorities and successes. We will continue to review and evolve our approach to measuring our lasting impact on the communities we operate in as understanding across the industry evolves and matures.
UK: Smart Working
In 2021, we launched Smart Working across our UK business. Smart Working is about when, where and how we work, and making the best use of our location, technology, and time to best meet the needs of our business, our projects, our customers, our teams and employees.
It's more than a flexible working policy; it is about creating a supportive, inclusive culture and being a great place to work. Our new approach covers all the stages of our employee's career and considers arrangements and flexibility to meet their needs such as staggered start and finish times, and where roles allow, the opportunity to work remotely 40% of the time.
Hong Kong: WELL-ness in the workplace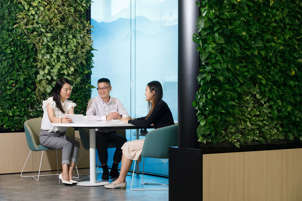 Our Hong Kong joint venture, Gammon, is the first construction company in Hong Kong to have been awarded Gold level WELL Pre-certification for its new head office.
The WELL Building Standard (version 1) for Interiors, is a performance-based system for built environments that integrates health and wellbeing considerations into the design and fit-out.
The project team considered every aspect from air and water quality to light, comfort and mental wellbeing. Drinking water is filtered to a very high standard while indoor air quality monitors are set up to monitor in real time. Meeting rooms and offices have been designed to minimise noise intrusion and allow undisturbed concentration. Green walls in the communal social hub provide a calming connection to nature and in the open plan office, the height of all desks can be automatically adjusted at the push of a button.
UK: Bringing construction to the classroom
In collaboration with SCAPE Group and Learn Live, we've been encouraging  thousands of young people in the UK to consider a career in construction.
Through a series of careers focused events, that are broadcast live to schools
and colleges, employees including graduates and apprentices have shared insights into the industry and answered questions submitted by viewers.
Construction LIVE is one of many initiatives that have contributed to £174 million of social value delivered across 128 SCAPE projects since 2015.
US: Creating employment and skills opportunities for under represented groups
In the State of Washington, 15% of a workforce must be made up by State registered apprentices. Our project team working on The King County Children & Family Justice Center project exceeded phase I Project Labor Agreements and diversity goals with 26% of the total project hours being undertaken by apprentices - 23% of those apprentices were from a minority group and 7% were women.
The team also set up and completed a 12-month mentor protégé program for small contractors and supply chain partners, which was one of the great successes on this project.
UK: Increasing our commitment to social mobility and shared prosperity
As a member of The 5% Club, a dynamic movement of employers committed to 'earn & learn' roles as part of ensuring Britain's social mobility and shared prosperity, we have already exceed our charter promise to dedicate 5% of our employees numbers to such roles.
In support of our commitment to The 5% Club, which was founded by our Group Chief Executive Leo Quinn, we have made a public declaration to a c.30% increase in our UK 2020 apprentice, graduate and trainee recruitment in comparison to the company's 2019 intake levels.
Footnotes
https://socialvalueportal.com/national-toms/