Understanding Balfour Beatty
We combine engineering expertise with a strong investments capability.

We finance, develop, build and maintain complex infrastructure such as transportation, power and utility systems, and social and commercial buildings.
Our main geographies are the UK, US and Hong Kong with 26,000 employees worldwide.
The markets we serve
We operate predominantly in

U

K

, US and Hong Kong

Our customers are government departments and agencies, regulated utilities and private sector organisations
The pie chart below shows our order book at HY 2020
For more information on our presence in the US, click here.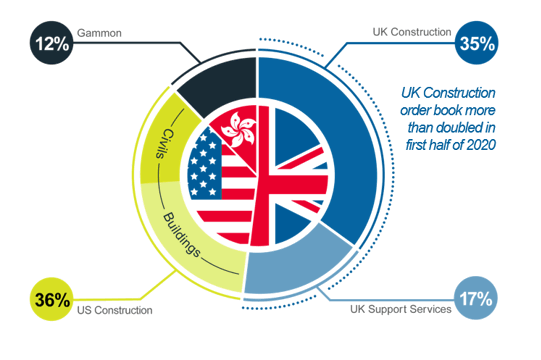 How we compete
Our engineering expertise, supported by our scale and balance sheet, allows us to deliver complex and large-scale infrastructure projects
We combine this ability with our local presence and a strong connection to customers and suppliers
Safety, sustainability and ethics are the bedrock of our business and our licence to operate
Combining world-class investments capability and leading construction and support services, we have a deep understanding of how to develop and maintain essential infrastructure.
Our strategic priorities
Lean – improve operational performance by increasing productivity and cash generation
Expert – invest to attract, retain and develop the best employee and subcontractor talent
Trusted – deliver value to customers through disciplined contracting processes
Safe – continue to show leadership in safety through Zero Harm for our people, customers and communities.
Balfour Beatty - What we do
For over a century we have shaped the world we live in, pioneering new technologies and transforming the built environment. We invest locally and build sustainably to connect communities and create the infrastructure that underpins our daily lives. #expertengineers